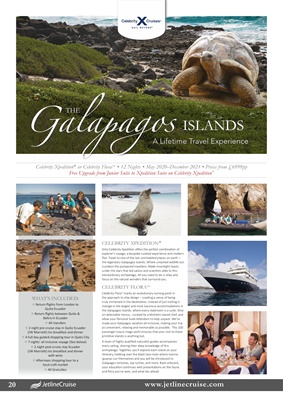 20
WHAT'S INCLUDED:
✥ Return flights from London to
Quito Ecuador
✥ Return flights between Quito &
Baltra in Ecuador
✥ All transfers
✥ 2 night pre-cruise stay in Quito Ecuador
(JW Marriott) Inc breakfast and dinner
✥ A full day guided shopping tour in Quito City
✥ 7 nights' all inclusive voyage (See below)
✥ 2 night post-cruise stay Ecuador
(JW Marriott) Inc breakfast and dinner
with wine
✥ Afternoon shopping tour to a
local craft market
✥ All Gratuities
CELEBRITY XPEDITION®
Only Celebrity Xpedition offers the perfect combination of
explorer's voyage, a bespoke curated experience and modern
flair. Travel to one of the last uninhabited places on earth -
the legendary Galapagos Islands. Where untamed wildlife out
numbers the pampered travellers. Make moonlight toasts
under the stars that led sailors and scientists alike to this
extraordinary archipelago. All you need to do is relax and
focus on the natural wonders that surround you.
CELEBRITY FLORASM
Celebrity Flora
SM
marks an evolutionary turning point in
the approach to ship design - creating a sense of being
truly immersed in the destination, instead of just visiting it.
Indulge in the largest and most luxurious accommodations in
the Galapagos Islands, where every stateroom is a suite. Dine
on delectable menus, curated by a Michelin-stared chef, and
allow your Personal Suite Attendant to help unpack. We've
made your Galapagos vacation all-inclusive, making your trip
as convenient, relaxing and memorable as possible. This 100
passenger luxury mega yacht ensures that your visit to these
primitive islands is anything but.
A team of highly qualified naturalist guides accompanies
every sailing, sharing their deep knowledge of this
archipelago. Together, you'll explore each island on your
itinerary, trekking over the black lava rocks where marine
iguanas sun themselves and you will be introduced to
Galapagos tortoises, sea turtles, and more. Back onboard,
your education continues with presentations on the fauna
and flora you've seen, and what lies ahead.
Celebrity Xpedition® or Celebrity FloraSM • 12 Nights • May 2020-December 2021 • Prices from £6999pp
Free Upgrade from Junior Suite to Xpedition Suite on Celebrity Xpedition*
Gala�a�os
THE
ISLANDS
A Lifetime Travel Experience