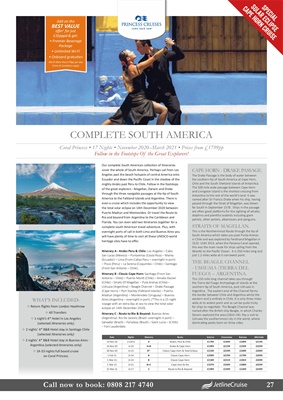 Call now to book: 0808 217 4740 27
COMPLETE SOUTH AMERICA
Coral Princess • 17 Nights • November 2020-March 2021 • Prices from £1799pp
Follow in the Footsteps Of the Great Explorers!
WHAT'S INCLUDED:
✥ Return flights from London Heathrow
✥ All Transfers
✥ 1 night's 4* Hotel in Los Angeles
(selected itineraries only)
✥ 2 nights' 4* B&B Hotel stay in Santiago Chile
(selected itineraries only)
✥ 2 nights' 4* B&B Hotel stay in Buenos Aires -
Argentina (selected itineraries only)
✥ 14-33 nights full board cruise
on Coral Princess
Date Nights Itinerary Route Interior Oceanview Balcony Mini Suite
14 Nov 20 1+18+2 A Andes, Peru & Chile £1799 £1899 £2099 £2199
14 Nov 20 1+33 A+B Andes & Cape Horn £1999 £2199 £2599 £3299
30 Nov 20 2+15 B* Classic Cape Horn & Total Eclipse £2199 £2399 £2699 £2899
1 Feb 21 2+14 B Classic Cape Horn £2099 £2299 £2799 £3099
1 Mar 21 2+14 B Classic Cape Horn £2189 £2319 £2819 £3099
1 Mar 21 2+31 B+C Cape Horn & Rio £3279 £3499 £3899 £4299
15 Mar 21 2+17 C Route to Rio & Beyond £1999 £1999 £2249 £2499
Itinerary A - Andes Peru & Chile: Los Angeles - Cabo
San Lucas (Mexico) - Puntarenas (Costa Rica) - Manta
(Ecuador) - Lima (From Callao Peru - overnight in port)
- Pisco (Peru) - La Serena (Coquimbo - Chile) - Santiago
(From San Antonio - Chile).
Itinerary B - Classic Cape Horn: Santiago (From San
Antonio - Chile) - Puerto Montt (Chile) - Amalia Glacier
(Chile) - Straits Of Magellan - Puta Arenas (Chile) -
Ushuaia (Argentina) - Beagle Channel - Drake Passage
(Cape Horn) - Port Stanley (Falkland Islands) - Puerto
Madryn (Argentina) - Montevideo (Uruguay) - Buenos
Aires (Argentina - overnight in port). (*This is a 15 night
voyage with an extra day at sea to view the total solar
eclipse on 14th December 2020).
Itinerary C - Route to Rio & Beyond: Buenos Aires
(Argentina)- Rio De Janeiro (Brazil- overnight in port) -
Salvador (Brazil) - Fortaleza (Brazil) - Saint Lucia - St Kitts
- Fort Lauderdale.
Our complete South American collection of itineraries
cover the whole of South America. Perhaps sail from Los
Angeles past the beach hotspots of central America onto
Ecuador and down the Pacific Coast in the shadow of the
mighty Andes past Peru to Chile. Follow in the footsteps
of the great explorers - Magellan, Darwin and Drake
through the three navigable passages at the tip of South
America to the Falkland Islands and Argentina. There is
even a cruise which includes the opportunity to view
the total solar eclipse on 14th December 2020 between
Puerto Madryn and Montevideo. Or travel the Route to
Rio and beyond from Argentina to the Caribbean and
Florida. You can even add two itineraries together for a
complete south American travel adventure. Plus, with
overnight ports of call in both Lima and Buenos Aires you
will have plenty of time to visit all these UNESCO world
heritage sites have to offer.
CAPE HORN - DRAKE PASSAGE.
The Drake Passage is the body of water between
the southern tip of South America at Cape Horn,
Chile and the South Shetland Islands of Antarctica.
The 500 mile wide passage between Cape Horn
and Livingston Island is the shortest crossing from
Antarctica to the rest of the world's land. It was
named after Sir Francis Drake when his ship, having
passed through the Strait of Magellan, was blown
far South in September 1578. Ships in the passage
are often good platforms for the sighting of whales,
dolphins and plentiful seabirds including giant
petrels, other petrels, albatrosses and penguins.
STRAITS OF MAGELLAN.
This is the Northernmost Route through the tip of
South America which takes you past Punta Arenas
in Chile and was explored by Ferdinand Magellan in
1520. Until 1914, when the Panama Canal opened,
this was the main route for ships sailing from the
Atlantic to the Pacific Ocean. It is 350 miles long and
just 1.2 miles wide at it narrowest point.
THE BEAGLE CHANNEL
- USHUAIA (TIERRA DEL
FUEGO) - ARGENTINA.
This 150-mile long channel takes you through
the Tierra del Fuego Archipelago of islands at the
southern tip of South America, past Ushuaia in
Argentina. The eastern end of the Channel forms
the border between Chile and Argentina whilst the
western end is entirely in Chile. It is only three miles
wide at its widest point and so can be quite tricky
for ships to negotiate. The Beagle Channel was
named after the British ship Beagle, in which Charles
Darwin explored the area (1833-34). Pay a visit to
Ushuaia the southernmost city in the world, where
dominating peaks loom on three sides.
Add on the
BEST VALUE
offer* for just
£35pppd & get:
• Premier Beverage
Package
• Unlimited Wi-Fi
• Onboard gratuities
Worth More than £70pp per day
Terms & Conditions apply
SPECIAL
SOLAR ECLIPSE
CAPE HORN CRUISE