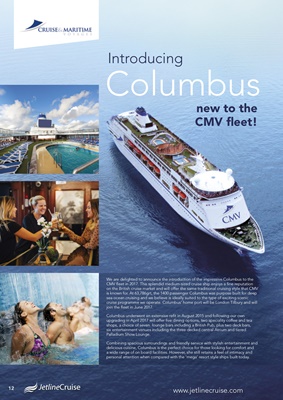 12
We are delighted to announce the introduction of the impressive Columbus to the
CMV fleet in 2017. This splendid medium-sized cruise ship enjoys a fine reputation
on the British cruise market and will offer the same traditional cruising style that CMV
is known for. At 63,786grt, the 1400 passenger Columbus was purpose built for deep
sea ocean cruising and we believe is ideally suited to the type of exciting scenic
cruise programme we operate. Columbus' home port will be London Tilbury and will
join the fleet in June 2017.
Columbus underwent an extensive refit in August 2015 and following our own
upgrading in April 2017 will offer five dining options, two speciality coffee and tea
shops, a choice of seven lounge bars including a British Pub, plus two deck bars,
six entertainment venues including the three decked central Atrium and tiered
Palladium Show Lounge.
Combining spacious surroundings and friendly service with stylish entertainment and
delicious cuisine, Columbus is the perfect choice for those looking for comfort and
a wide range of on board facilities. However, she still retains a feel of intimacy and
personal attention when compared with the 'mega' resort style ships built today.
Columbusnew to the
CMV fleet!
Introducing