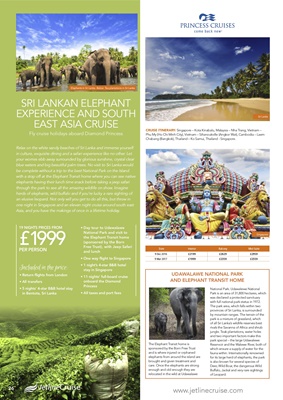 CRUISE ITINERARY: Singapore - Kota Kinabalu, Malaysia - Nha Trang, Vietnam -
Phu My (Ho Chi Minh City), Vietnam - Sihanoukville (Angkor Wat), Cambodia - Laem
Chabang (Bangkok), Thailand - Ko Samui, Thailand - Singapore.
Date Interior Balcony Mini-Suite
9 Dec 2016 £2199 £2629 £2959
9 Mar 2017 £1999 £2359 £2559
SRI LANKAN ELEPHANT
EXPERIENCE AND SOUTH
EAST ASIA CRUISE
Fly cruise holidays aboard Diamond Princess
Relax on the white sandy beaches of Sri Lanka and immerse yourself
in culture, exquisite dining and a safari experience like no other. Let
your worries ebb away surrounded by glorious sunshine, crystal clear
blue waters and big beautiful palm trees. No visit to Sri Lanka would
be complete without a trip to the best National Park on the Island
with a stop off at the Elephant Transit home where you can see native
elephants having their lunch time snack before taking a jeep safari
through the park to see all the amazing wildlife on show. Imagine
herds of elephants, wild buffalo and if you're lucky a rare sighting of
an elusive leopard. Not only will you get to do all this, but throw in
one night in Singapore and an eleven night cruise around south east
Asia, and you have the makings of once in a lifetime holiday.
26
19 NIGHTS PRICES FROM
£1999PER PERSON
Sri Lanka
Singapore
UDAWALAWE NATIONAL PARK
AND ELEPHANT TRANSIT HOME
Included in the price:
• Return flights from London
• All transfers
• 5 nights' 4-star B&B hotel stay
in Bentota, Sri Lanka
The Elephant Transit home is
sponsored by the Born Free Trust
and is where injured or orphaned
elephants from around the island are
brought and given treatment and
care. Once the elephants are strong
enough and old enough they are
relocated in the wild at Udawalawe
National Park. Udawalewe National
Park is an area of 31,800 hectares, which
was declared a protected sanctuary
with full national park status in 1972.
The park area, which falls within two
provinces of Sri Lanka, is surrounded
by mountain ranges. The terrain of the
park is a mixture of grassland, which
of all Sri Lanka's wildlife reserves best
rivals the Savanna of Africa and shrub
jungle. Teak plantations, water holes
and two important factors make this
park special - the large Udawalewe
Reservoir and the Walewe River, both of
which ensure a supply of water for the
fauna within. Internationally renowned
for its large herd of elephants, the park
is also known for several species of
Deer, Wild Boar, the dangerous Wild
Buffalo, Jackal and very rare sightings
of Leopard.
Elephants in Sri Lanka. Below: Tea plantations in Sri Lanka
• Day tour to Udawalawe
National Park and visit to
the Elephant Transit home
(sponsored by the Born
Free Trust), with Jeep Safari
and lunch
• One way flight to Singapore
• 1 night's 4-star B&B hotel
stay in Singapore
• 11 nights' full-board cruise
onboard the Diamond
Princess
• All taxes and port fees