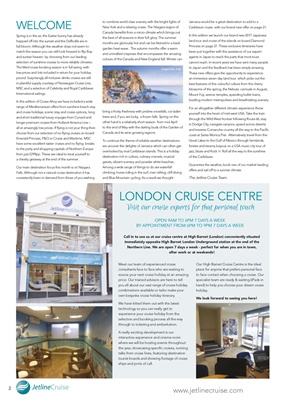 2 WELCOME
Spring is in the air, the Easter bunny has already
hopped off into the sunset and the Daffodils are in
full bloom. Although the weather does not seem to
match the season you can still look forward to flip-flop
and suntan heaven by choosing from our leading
selection of sunshine cruises to more reliable climates.
The Med cruise booking season is in full swing with
low prices and lots included in return for your holiday
pound. Surprisingly all-inclusive drinks cruises are still
in plentiful supply courtesy of Norwegian Cruise Line,
MSC and a selection of Celebrity and Royal Caribbean
International sailings.
In this edition of Cruise Ahoy we have included a wide
range of Mediterranean offers from sunshine beach stay
and cruise holidays, scenic stay and cruise options, long
and short traditional luxury voyages from Cunard and
longer premium cruises from Holland America Line -
all at amazingly low prices. If flying is not your thing then
choose from our selection of no flying cruises on-board
Emerald Princess, P&O or Cruise and Maritime. MSC
have some excellent taster cruises and no flying breaks
to the party and shopping capitals of Northern Europe
from just £299pp. These are ideal to treat yourself to
a cheeky getaway at the end of the summer .
Our main destination focus this month is on Niagara
Falls. Although not a natural cruise destination it has
consistently been in demand from those of you wishing
to combine world class scenery with the bright lights of
New York and a relaxing cruise. The Niagara region of
Canada benefits from a micro-climate which brings out
the best of all seasons in their full glory. The summer
months are gloriously hot and can be likened to a back
garden heat-wave. The autumn months offer a warm
and unrivalled crispness that encompasses the amazing
colours of the Canada and New England fall. Winter can
bring a frosty freshness with pristine snowfalls, ice laden
trees and, if you are lucky, a frozen falls. Spring on the
other hand is a relatively short season from mid April
to the end of May with the darling buds of the Garden of
Canada and its wine growing regions.
To continue the theme of reliable weather destinations
we uncover the delights of Jamaica which can often get
overlooked by rival Caribbean islands. This is a holiday
destination rich in culture, culinary marvels, musical
greats, vibrant scenery and powder white beaches.
Among a wide range of things to do are waterfall
climbing, horse-riding in the surf, river rafting, cliff diving
and Blue Mountain cycling. As a result we thought
Jamaica would be a great destination to add to a
Caribbean cruise with our brand new offer on page 21.
In this edition we launch our brand new 2017 Japanese
land tour and cruise of the islands on board Diamond
Princess on page 27. These exclusive itineraries have
been put together with the assistance of our expert
agents in Japan to reach the parts that most tours
cannot reach. In recent years we have sent many people
to Japan and the feedback has been simply amazing.
These new offers give the opportunity to experience
an immersive seven day land tour which picks out the
best features of this colourful culture from the cherry
blossoms of the spring, the Nebuta carnivals in August,
Mount Fuji, serene temples, speeding bullet trains,
bustling modern metropolises and breathtaking scenery.
For an altogether different climatic experience throw
yourself into the heart of mid-west USA. Take the train
through the Wild West frontier following Route 66, stay
in Dodge City, navigate canyons, speed across deserts
and traverse Comanche country all the way to the Pacific
coast at Santa Monica Pier. Alternatively travel from the
Great Lakes to the Gulf of Mexico through farmlands,
forests and steamy bayous on a USA music city tour of
jazz, blues and Rock 'n' Roll all the way to the sunshine
of the Caribbean.
Guarantee the weather, book one of our market leading
offers and sail off to a sunnier climate.
The Jetline Cruise Team.
Call in to see us at our cruise centre at High Barnet (London) conveniently situated
immediately opposite High Barnet London Underground station at the end of the
Northern Line. We are open 7 days a week - perfect for when you are in town,
after work or at weekends!
Meet our team of experienced cruise
consultants face to face who are waiting to
source your next cruise holiday at an amazing
price. Our trained advisors are here to tell
you all about our vast range of cruise holiday
combinations available or tailor make your
own bespoke cruise holiday itinerary.
We have kitted them out with the latest
technology so you can really get to
experience your cruise holiday from the
selection and booking process all the way
through to ticketing and embarkation.
A really exciting development is our
interactive experience and cinema room
where we will be hosting events throughout
the year, showcasing specific cruises, running
talks from cruise lines, featuring destination
tourist boards and showing footage of cruise
ships and ports of call.
Our High Barnet Cruise Centre is the ideal
place for anyone that prefers personal face
to face contact when choosing a cruise. Our
specialist team are ready & waiting (iPads in
hand) to help you choose your dream cruise
holiday.
We look forward to seeing you here!
OPEN 9AM TO 6PM 7 DAYS A WEEK
BY APPOINTMENT FROM 6PM TO 9PM 7 DAYS A WEEK
LONDON CRUISE CENTRE
Visit our cruise experts for that personal touch
Cinque Terre, Italy