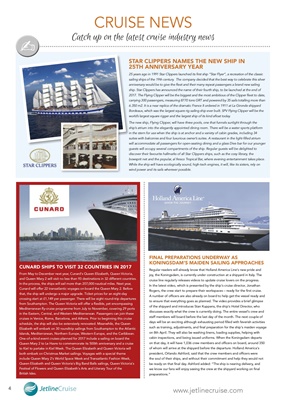 4
CRUISE NEWS
Catch up on the latest cruise industry news
STAR CLIPPERS NAMES THE NEW SHIP IN
25TH ANNIVERSARY YEAR
25 years ago in 1991 Star Clippers launched its first ship "Star Flyer", a recreation of the classic
sailing ships of the 19th century. The company decided that the best way to celebrate this silver
anniversary would be to give the fleet and their many repeat passengers a brand new sailing
ship. Star Clippers has announced the name of their fourth ship, to be launched at the end of
2017. The Flying Clipper will be the biggest and the most ambitious of the Clipper fleet to date,
carrying 300 passengers, measuring 8770 tons GRT and powered by 35 sails totalling more than
6.350 m2. It is a near replica of the dramatic France II ordered in 1911 at La Gironde shipyard
Bordeaux, which was the largest square rig sailing ship ever built. SPV Flying Clipper will be the
world's largest square rigger and the largest ship of its kind afloat today.
The new ship, Flying Clipper, will have three pools, one that funnels sunlight through the
ship's atrium into the elegantly appointed dining room. There will be a water sports platform
in the stern for use when the ship is at anchor and a variety of cabin grades, including 34
suites with balconies and four luxurious owner's suites. A restaurant in the light-filled atrium
will accommodate all passengers for open-seating dining and a glass Dive bar for our younger
guests will occupy several compartments of the ship. Regular guests will be delighted to
discover their favourite hallmarks of all Star Clippers ships, such as the cosy library, the
bowsprit net and the popular, al fresco Tropical Bar, where evening entertainment takes place.
While the ship will have ecologically sound, high-tech engines, it will, like its sisters, rely on
wind power and its sails wherever possible.
CUNARD SHIPS TO VISIT 32 COUNTRIES IN 2017
From May to December next year, Cunard's Queen Elizabeth, Queen Victoria,
and Queen Mary 2 will visit no less than 93 destinations in 32 different countries.
In the process, the ships will sail more than 207,000 nautical miles. Next year,
Cunard will offer 22 transatlantic voyages on board the Queen Mary 2. Before
that, the ship will undergo a major upgrade. Ticket prices for an eight-day
crossing start at £1,149 per passenger. There will be eight round-trip departures
from Southampton. The Queen Victoria will offer a flexible, yet encompassing
Mediterranean fly-cruise programme from July to November, covering 29 ports
in the Eastern, Central, and Western Mediterranean. Passengers can join these
cruises in Venice, Rome, Barcelona, and Athens. Prior to beginning this cruise
schedule, the ship will also be extensively renovated. Meanwhile, the Queen
Elizabeth will embark on 30 roundtrip sailings from Southampton to the Atlantic
Islands, Mediterranean, Northern Europe, Western Europe, and the Caribbean.
One-of-a-kind event cruises planned for 2017 include a sailing on board the
Queen Mary 2 to Le Havre to commemorate its 500th anniversary and a cruise
to Kiel to partake in Kiel Week. The Queen Elizabeth and Queen Victoria will
both embark on Christmas Market sailings. Voyages with a special theme
include Queen Mary 2's World Space Week and Transatlantic Fashion Week,
Queen Elizabeth and Queen Victoria's Big Band Balls sailings, Queen Victoria's
Festival of Flowers and Queen Elizabeth's Arts and Literary Tour of the
British Isles.
FINAL PREPARATIONS UNDERWAY AS
KONINGSDAM'S MAIDEN SAILING APPROACHES
Regular readers will already know that Holland America Line's new pride and
joy, the Koningsdam, is currently under construction at a shipyard in Italy. The
cruise line regularly releases videos to update cruise lovers on the progress.
In the latest video, which is presented by the ship's cruise director, Jonathan
Rogers, the crew start to prepare their workspaces - ready for the first cruise.
A number of officers are also already on board to help get the vessel ready and
to ensure that everything goes as planned. The video provides a brief glimpse
of the shipyard and introduces Stan Kuppens, the ship's Hotel Director, who
discusses exactly what the crew is currently doing. The entire vessel's crew and
staff members will board before the last day of the month. The next couple of
days will be an exciting although exhausting period filled with feverish activities
such as training, adjustments, and final preparation for the ship's maiden voyage
on 8th April. They will also be washing linens, loading supplies, helping with
cabin inspections, and being issued uniforms. When the Koningsdam departs
on that day, it will have 1,036 crew members and officers on board, around 350
of whom will arrive at the shipyard before the departure. Holland America's
president, Orlando Ashford, said that the crew members and officers were
the soul of their ships, and without their commitment and help they would not
be ready on that final day. Ashford added: "The ship is nearing delivery, and
we know our fans will enjoy seeing the crew at the shipyard working on final
preparations."