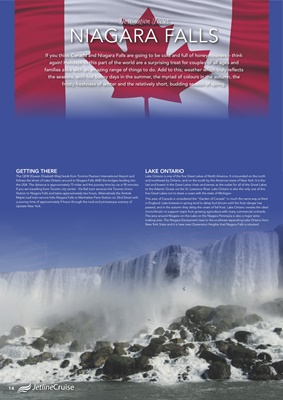 14
Destination Focus
NIAGARA FALLS
If you think Canada and Niagara Falls are going to be cold and full of honeymooners - think
again! Holidays to this part of the world are a surprising treat for couples of all ages and
families alike with an amazing range of things to do. Add to this; weather which truly reflects
the seasons, with hot balmy days in the summer, the myriad of colours in the autumn, the
frosty freshness of winter and the relatively short, budding season of spring.
GETTING THERE
The QEW (Queen Elizabeth Way) leads from Toronto Pearson International Airport and
follows the shore of Lake Ontario around to Niagara Falls AND the bridges leading into
the USA. The distance is approximately 75 miles and the journey time by car is 90 minutes.
If you are travelling from Toronto city centre - Via Rail train services link Toronto Union
Station to Niagara Falls and takes approximately two hours. Alternatively the Amtrak
Maple Leaf train service links Niagara Falls to Manhattan Penn Station on 33rd Street with
a journey time of approximately 9 hours through the rural and picturesque scenery of
Upstate New York.
LAKE ONTARIO
Lake Ontario is one of the five Great Lakes of North America. It is bounded on the north
and southwest by Ontario, and on the south by the American state of New York. It is the
last and lowest in the Great Lakes chain and serves as the outlet for all of the Great Lakes
to the Atlantic Ocean via the St. Lawrence River. Lake Ontario is also the only one of the
five Great Lakes not to share a coast with the state of Michigan.
This area of Canada is considered the "Garden of Canada" in much the same way as Kent
in England. Lake breezes in spring tend to delay fruit bloom until the frost danger has
passed, and in the autumn they delay the onset of fall frost. Lake Ontario creates the ideal
microclimatic to support major fruit-growing agriculture with many commercial orchards.
The area around Niagara-on-the-Lake on the Niagara Peninsula is also a major winemaking area.
The Niagara Escarpment rises to the southeast separating Lake Ontario from
New York State and it is here near Queenston Heights that Niagara Falls is situated.