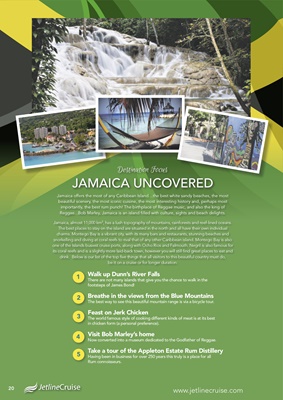 20
Walk up Dunn's River Falls
There are not many islands that give you the chance to walk in the
footsteps of James Bond!
Breathe in the views from the Blue Mountains
The best way to see this beautiful mountain range is via a bicycle tour.
Feast on Jerk Chicken
The world famous style of cooking different kinds of meat is at its best
in chicken form (a personal preference).
Visit Bob Marley's home
Now converted into a museum dedicated to the Godfather of Reggae.
Take a tour of the Appleton Estate Rum Distillery
Having been in business for over 250 years this truly is a place for all
Rum connoisseurs.
Destination Focus
JAMAICA UNCOVERED
Jamaica offers the most of any Caribbean Island…the best white sandy beaches, the most
beautiful scenery, the most iconic cuisine, the most interesting history and, perhaps most
importantly, the best rum punch! The birthplace of Reggae music, and also the king of
Reggae...Bob Marley, Jamaica is an island filled with culture, sights and beach delights.
Jamaica, almost 11,000 km2, has a lush topography of mountains, rainforests and reef-lined oceans.
The best places to stay on the island are situated in the north and all have their own individual
charms. Montego Bay is a vibrant city, with its many bars and restaurants, stunning beaches and
snorkelling and diving at coral reefs to rival that of any other Caribbean island. Montego Bay is also
one of the Islands busiest cruise ports, along with Ocho Rios and Falmouth. Negril is also famous for
its coral reefs and is a slightly more laid-back town, however you will still find great places to eat and
drink. Below is our list of the top five things that all visitors to this beautiful country must do,
be it on a cruise or for longer duration:
1
2
3
4
5