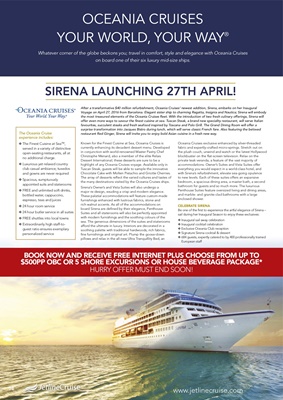 OCEANIA CRUISES
YOUR WORLD, YOUR WAY
®
Whatever corner of the globe beckons you; travel in comfort, style and elegance with Oceania Cruises
on board one of their six luxury mid-size ships.
After a transformative $40 million refurbishment, Oceania Cruises' newest addition, Sirena, embarks on her Inaugural
Voyage on April 27, 2016 from Barcelona. Elegant sister ship to charming Regatta, Insignia and Nautica; Sirena will embody
the most treasured elements of the Oceania Cruises fleet. With the introduction of two fresh culinary offerings, Sirena will
offer even more ways to savour the finest cuisine at sea. Tuscan Steak, a brand new speciality restaurant, will serve Italian
favourites, succulent steaks and fresh seafood inspired by Toscana and Polo Grill. The Grand Dining Room will offer a
surprise transformation into Jacques Bistro during lunch, which will serve classic French fare. Also featuring the beloved
restaurant Red Ginger, Sirena will invite you to enjoy bold Asian cuisine in a fresh new way.
38
The Oceania Cruise
experience includes:
❖ The Finest Cuisine at SeaTM,
served in a variety of distinctive
open-seating restaurants, all at
no additional charge.
❖ Luxurious yet relaxed country
club casual ambiance; tuxedos
and gowns are never required
❖ Spacious, sumptuously
appointed suits and staterooms
❖ FREE and unlimited soft drinks,
bottled water, cappuccino,
espresso, teas and juices
❖ 24 hour room service
❖ 24 hour butler service in all suites
❖ FREE shuttles into local towns
❖ Extraordinarily high staff-toguest ratio ensures
exemplary
personalized service
Known for the Finest Cuisine at Sea, Oceania Cruises is
currently enhancing its decadent dessert menu. Developed
in conjunction with world-renowned Master Pastry Chef
Christophe Menard, also a member of the elite Relais
Dessert International; these desserts are sure to be a
highlight of any Oceania Cruises voyage. Available only in
Tuscan Steak, guests will be able to sample the innovative
Chocolate Cake with Molten Pistachio and Griotte Cherries.
The array of desserts reflect the varied cultures and tastes of
the many destinations visited by the Oceania Cruises ships.
Sirena's Owner's and Vista Suites will also undergo a
major re-design, exuding a crisp and modern elegance.
These palatial accommodations will feature custom-made
furnishings enhanced with lustrous fabrics, stone and
rich walnut accents. As all of the accommodations on
board Sirena are defined by their elegance, Penthouse
Suites and all staterooms will also be perfectly appointed
with modern furnishings and the soothing colours of the
sea. The generous dimensions of the suites and staterooms
afford the ultimate in luxury. Interiors are decorated in a
soothing palette with traditional hardwoods, rich fabrics,
fine furnishings and original art. Plump the goose-down
pillows and relax in the all-new Ultra Tranquillity Bed, an
Oceania Cruises exclusive enhanced by silver-threaded
fabric and expertly-crafted micro-springs. Stretch out on
the plush couch, unwind and watch or the latest Hollywood
blockbuster on the flat-screen television. Relax on the
private teak veranda, a feature of the vast majority of
accommodations. Owner's Suites and Vista Suites offer
everything you would expect in a world-class hotel, and
with Sirena's refurbishment, elevate sea-going opulence
to new levels. Each of these suites offers an expansive
bedroom, a spacious dining area, a master bath, a second
bathroom for guests and so much more. The luxurious
Penthouse Suites feature oversized living and dining areas,
and marble- and granite-clad bathrooms with a large
enclosed shower.
CELEBRATE SIRENA
Be one of the first to experience the artful elegance of Sirena -
sail during her Inaugural Season to enjoy these exclusives:
❖ Inaugural sail away celebration
❖ Inaugural cocktail celebration
❖ Exclusive Oceania Club reception
❖ Signature Sirena cocktail & dessert
❖ 684 guests, expertly catered to by 400 professionally trained
European staff
BOOK NOW AND RECEIVE FREE INTERNET PLUS CHOOSE FROM UP TO
$500PP OBC OR 5 SHORE EXCURSIONS OR HOUSE BEVERAGE PACKAGE*
HURRY OFFER MUST END SOON!
SIRENA LAUNCHING 27TH APRIL!