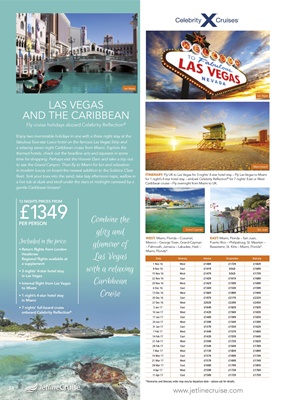 Date Itinerary Interior Oceanview Balcony
1 Nov 16 West £1489 £1729 £1829
8 Nov 16 East £1419 SOLD £1699
15 Nov 16 West £1479 SOLD £1739
22 Nov 16 East £1439 £1619 £1689
29 Nov 16 West £1429 £1599 £1699
6 Dec 16 East £1349 £1539 £1599
13 Dec 16 West £1669 £1899 £1949
20 Dec 16 East £1979 £2179 £2329
27 Dec 16 West £2029 £2299 £2459
3 Jan 17 East £1649 £1829 £1929
10 Jan 17 West £1429 £1569 £1659
17 Jan 17 East £1469 £1599 £1659
24 Jan 17 West £1399 £1549 £1599
31 Jan 17 East £1379 £1559 £1629
7 Feb 17 West £1449 £1579 £1669
14 Feb 17 East £1429 £1559 £1649
21 Feb 17 West £1599 £1729 £1829
28 Feb 17 East £1549 £1649 £1789
7 Mar 17 West £1729 £1859 £1899
14 Mar 17 East £1579 £1699 £1749
21 Mar 17 West £1579 £1699 £1749
28 Mar 17 East £1689 £1799 £1859
4 Apr 17 West £1599 £1739 £1769
11 Apr 17 East £1569 £1729 £1759
*Itineraries and itinerary order may vary by departure date - please ask for details.
LAS VEGAS
AND THE CARIBBEAN
Fly cruise holidays aboard Celebrity Reflection®
Enjoy two memorable holidays in one with a three night stay at the
fabulous four-star Luxor hotel on the famous Las Vegas Strip and
a relaxing seven night Caribbean cruise from Miami. Explore the
themed hotels, check out the headline acts and squeeze in some
time for shopping. Perhaps visit the Hoover Dam and take a trip out
to see the Grand Canyon. Then fly to Miami for fun and relaxation
in modern luxury on board the newest addition to the Solstice Class
fleet. Sink your toes into the sand, take lazy afternoon naps, wallow in
a hot tub at dusk and stroll under the stars at midnight caressed by a
gentle Caribbean breeze!
Included in the price:
• Return flights from London
Heathrow
Regional flights available at
a supplement
• 3 nights' 4-star hotel stay
in Las Vegas
• Internal flight from Las Vegas
to Miami
• 1 night's 4-star hotel stay
in Miami
• 7 nights' full-board cruise
onboard Celebrity Reflection®
12 NIGHTS PRICES FROM
£1349PER PERSON
24
Las Vegas
Grand Cayman
Miami beach
Combine the
glitz and
glamour of
Las Vegas
with a relaxing
Caribbean
Cruise
WEST: Miami, Florida - Cozumel,
Mexico - George Town, Grand Cayman
- Falmouth, Jamaica - Labadee, Haiti -
Miami, Florida*.
EAST: Miami, Florida - San Juan,
Puerto Rico - Philipsburg, St. Maarten -
Basseterre, St. Kitts - Miami, Florida*.
San Juan
ITINERARY: Fly UK to Las Vegas for 3 nights' 4-star hotel stay - Fly Las Vegas to Miami
for 1 night's 4-star hotel stay - embark Celebrity Reflection® for 7 nights' East or West
Caribbean cruise - Fly overnight from Miami to UK.
Las Vegas