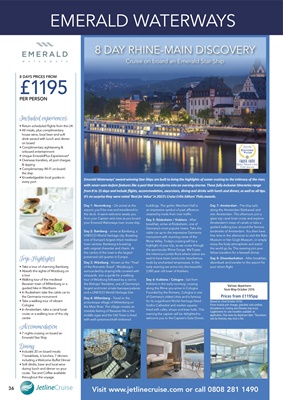 Visit www.jetlinecruise.com or call 0808 281 1490
Included experiences:
• Return scheduled flights from the UK
• All meals, plus complimentary
house wine, local beer and soft
drink served with lunch and dinner
on board
• Complimentary sightseeing &
onboard entertainment
• Unique EmeraldPlus Experiences*
• Overseas transfers, all port charges
& tipping
• Complimentary Wi-Fi on-board
the ship
• Knowledgeable local guides in
every port
Trip Highlights
• Take a tour of charming Bamberg
• Absorb the sights of Würzburg on
a tour
• Walking tour of the medieval
Bavarian town of Miltenberg or a
guided hike in Wertheim
• In Rudesheim take the cable car to
the Germania monument
• Take a walking tour of vibrant
Cologne
• In Amsterdam, take a canal boat
cruise or a walking tour of the city
centre
Accommodation
• 7 nights cruising on board an
Emerald Star Ship
Dining • Includes 20 on board meals:
7 breakfasts, 6 lunches, 7 dinners
including a Welcome Buffet Dinner
• Soft drinks, beer and local wine
during lunch and dinner on your
cruise. Tea and Coffee available
throughout the voyage.
8 DAYS PRICES FROM
£1195PER PERSON EMERALD WATERWAYS
Day 1: Nuremburg - On arrival at the
airport, you'll be met and transferred to
the dock. A warm welcome awaits you
from your Captain and crew as you board
your Emerald Waterways river cruise ship.
Day 2: Bamberg - arrive at Bamberg, a
UNESCO World Heritage city. Boasting
one of Europe's largest intact medieval
town centres, Bamberg is bursting
with original character and charm. At
the centre of the town is the largest
preserved old quarter in Europe.
Day 3: Würzburg - Known as the "Pearl
of the Romantic Road", Würzburg is
surrounded by sloping hills covered with
vineyards. Join a guide for a walking
tour of Würzburg followed by a visit to
the Bishops' Residenz, one of Germany's
largest and most ornate baroque palaces
and a UNESCO World Heritage Site.
Day 4: Miltenberg - Travel to the
picturesque village of Miltenberg on
the Main River. The village creates an
imitable feeling of Bavarian life in the
middle ages and the Old Town is lined
with well-preserved half-timbered
Various departures
from May-October 2016
Prices from £1195pp
(Based on 22nd October 2016)
Prices include port charges, gratuities and sundries.
Disruptions to cruising and itinerary may occur.
Supplements for solo travellers available on
application. Ship varies by departure date. *Excursions
vary by itinerary, may incur a fee.
buildings. The gothic Merchant Hall is
an impressive symbol of past affluence
created by trade from river traffic.
Day 5: Rüdesheim / Koblenz - After
breakfast, arrive at Rüdesheim, one of
Germany's most popular towns. Take the
cable car up to the impressive Germania
monument with stunning views of the
Rhine Valley. Today's cruising will be a
highlight of your trip, as we cruise through
the spectacular Rhine Gorge. We'll pass
the infamous Lorelei Rock where sailors are
said to have been lured onto treacherous
rocks by enchanted temptresses. In the
early evening we arrive into the beautiful
2,000 year old town of Koblenz.
Day 6: Koblenz / Cologne - Sail from
Koblenz in the early morning, cruising
along the Rhine you arrive in Cologne.
Founded by the Romans, Cologne is one
of Germany's oldest cities and is famous
for its magnificent World-heritage listed
Gothic Cathedral and market squares
lined with cafes, shops and beer halls. This
evening the captain will be delighted to
welcome you to the Captain's Gala Dinner.
Day 7: Amsterdam - The ship sails
along the Amsterdam Rijnkanaal and
into Amsterdam. This afternoon join a
glass top canal boat cruise and explore
Amsterdam's maze of canals or take a
guided walking tour around the famous
landmarks of Amsterdam. You then have
free time in the afternoon to visit the Rijks
Museum or Van Gogh Museum, or simply
enjoy the lively atmosphere and watch
the world go by. This evening join your
fellow travellers for a farewell dinner.
Day 8: Disembarkation - After breakfast,
disembark and transfer to the airport for
your return flight.
36
Emerald Waterways' award-winning Star-Ships are built to bring the highlights of ocean cruising to the intimacy of the river,
with never-seen-before features like a pool that transforms into an evening cinema. These fully-inclusive itineraries range
from 8 to 15 days and include flights, accommodation, excursions, dining and drinks with lunch and dinner, as well as all tips.
It's no surprise they were voted 'Best for Value' in 2015's Cruise Critic Editors' Picks awards.
EMERALD
WATERWAYS
8 DAY RHINE-MAIN DISCOVERY
Cruise on board an Emerald Star Ship