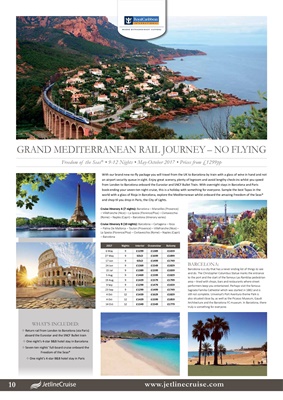 10
WHAT'S INCLUDED:
✥ Return rail from London to Barcelona (via Paris)
aboard the Eurostar and the SNCF Bullet train
✥ One night's 4-star B&B hotel stay in Barcelona
✥ Seven-ten nights' full-board cruise onboard the
Freedom of the Seas®
✥ One night's 4-star B&B hotel stay in Paris
With our brand new no-fly package you will travel from the UK to Barcelona by train with a glass of wine in hand and not
an airport security queue in sight. Enjoy great scenery, plenty of legroom and avoid lengthy check-ins whilst you speed
from London to Barcelona onboard the Eurostar and SNCF Bullet Train. With overnight stays in Barcelona and Paris
book-ending your seven-ten night cruise, this is a holiday with something for everyone. Sample the best Tapas in the
world with a glass of Rioja in Barcelona, explore the Mediterranean whilst onboard the amazing Freedom of the Seas®
and shop til you drop in Paris, the City of Lights.
2017 Nights Interior Oceanview Balcony
6 May 9 £1299 £1389 £1659
27 May 9 SOLD £1699 £1899
17 Jun 9 SOLD £1499 £1749
24 Jun 9 £1369 £1549 £1829
15 Jul 9 £1389 £1599 £1839
5 Aug 9 £1469 £1599 £1829
19 Aug 9 £1429 £1579 £1799
9 Sep 9 £1299 £1479 £1659
23 Sep 9 £1299 £1499 £1749
4 Oct 12 £1439 £1629 £1829
4 Oct 12 £1429 £1599 £1859
14 Oct 12 £1349 £1549 £1779
BARCELONA:
Barcelona is a city that has a never ending list of things to see
and do. The Christopher Columbus Statue marks the entrance
to the port and the start of the famous Las Ramblas pedestrian
area - lined with shops, bars and restaurants where street
performers keep you entertained. Perhaps visit the famous
Sagrada Familia Cathedral which was started in 1882 and is
still not complete. Universal's Port Aventura theme Park is
also situated close by, as well as the Picasso Museum, Gaudi
Architecture and the Barcelona FC museum. In Barcelona, there
truly is something for everyone.
Cruise itinerary A (7 nights): Barcelona - Marseilles (Provence)
- Villefranche (Nice) - La Spezia (Florence/Pisa) - Civitavecchia
(Rome) - Naples (Capri) - Barcelona (itinerary varies)
Cruise itinerary B (10 nights): Barcelona - Cartagena - Ibiza
- Palma De Mallorca - Toulon (Provence) - Villefranche (Nice) -
La Spezia (Florence/Pisa) - Civitavecchia (Rome) - Naples (Capri)
- Barcelona
GRAND MEDITERRANEAN RAIL JOURNEY - NO FLYING
Freedom of the Seas® • 9-12 Nights • May-October 2017 • Prices from £1299pp