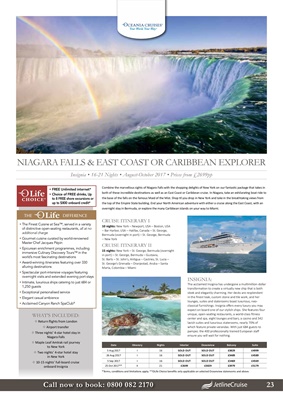 Call now to book: 0800 082 2170 23
WHAT'S INCLUDED:
✥ Return flights from London
✥ Airport transfer
✥ Three nights' 4-star hotel stay in
Niagara Falls
✥ Maple Leaf Amtrak rail journey
to New York
✥ Two nights' 4-star hotel stay
in New York
✥ 10-15 nights' full-board cruise
onboard Insignia
Combine the marvellous sights of Niagara Falls with the shopping delights of New York on our fantastic package that takes in
both of these incredible destinations as well as an East Coast or Caribbean cruise. In Niagara, take an exhilarating boat ride to
the base of the falls on the famous Maid of the Mist. Shop til you drop in New York and take in the breathtaking views from
the top of the Empire State building. End your North American adventure with either a cruise along the East Coast, with an
overnight stay in Bermuda, or explore the many Caribbean islands on your way to Miami.
CRUISE ITINERARY I
10 nights: New York - Newport, USA - Boston, USA
- Bar Harbor, USA - Halifax, Canada - St. George,
Bermuda (overnight in port) - St. George, Bermuda
- New York
CRUISE ITINERARY II
15 nights: New York - St. George, Bermuda (overnight
in port) - St. George, Bermuda - Gustavia,
St. Barts - St. John's, Antigua - Castries, St. Lucia -
St. George's Grenada - Oranjestad, Aruba - Santa
Marta, Colombia - Miami
NIAGARA FALLS & EAST COAST OR CARIBBEAN EXPLORER
Insignia • 16-21 Nights • August-October 2017 • Prices from £2699pp
INSIGNIA:
The acclaimed Insignia has undergone a multimillion-dollar
transformation to create a virtually new ship that is both
sleek and elegantly charming. Her decks are resplendent
in the finest teak, custom stone and tile work, and her
lounges, suites and staterooms boast luxurious, neoclassical
furnishings. Insignia offers every luxury you may
expect on board one of our stylish ships. She features four
unique, open-seating restaurants, a world-class fitness
center and spa, eight lounges and bars, a casino and 342
lavish suites and luxurious staterooms, nearly 70% of
which feature private verandas. With just 684 guests to
pamper, the 400 professionally trained European staff
ensure you will wait for nothing.
Date Itinerary Nights Interior Oceanview Balcony Suite
5 Aug 2017 I 16 SOLD OUT SOLD OUT £3829 £4999
26 Aug 2017 I 16 SOLD OUT SOLD OUT £3489 £4589
5 Sep 2017 I 16 SOLD OUT SOLD OUT £3469 £4569
25 Oct 2017** II 21 £2699 £3029 £3979 £5179
*Terms, conditions and limitations apply. **OLife Choice benefits only applicable on selected Oceanview staterooms and above.
TM
• FREE Unlimited internet*
• Choice of FREE drinks, Up
to 8 FREE shore excursions or
up to $800 onboard credit*
• The Finest Cuisine at Sea™, served in a variety
of distinctive open-seating restaurants, all at no
additional charge
• Gourmet cuisine curated by world-renowned
Master Chef Jacques Pépin
• Epicurean enrichment programmes, including
immersive Culinary Discovery Tours™ in the
world's most fascinating destinations
• Award-winning itineraries featuring over 330
alluring destinations
• Spectacular port-intensive voyages featuring
overnight visits and extended evening port stays
• Intimate, luxurious ships catering to just 684 or
1,250 guests
• Exceptional personalised service
• Elegant casual ambience
• Acclaimed Canyon Ranch SpaClub®
DIFFERENCE
THE