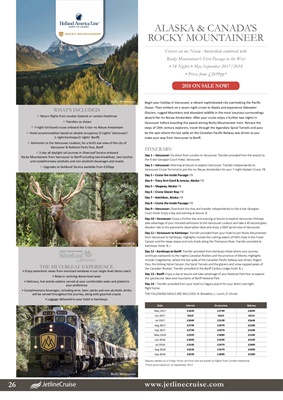 26
ALASKA & CANADA'S
ROCKY MOUNTAINEER
Cruises on ms Nieuw Amsterdam combined with
Rocky Mountaineer's First Passage to the West
• 14 Nights • May-September 2017/2018
• Prices from £2699pp*
Rocky Mountaineer Begin your holiday in Vancouver, a vibrant sophisticated city overlooking the Pacific
Ocean. Then embark on a seven-night cruise to Alaska and experience tidewater
Glaciers, rugged Mountains and abundant wildlife in the most luxurious surroundings
aboard the ms Nieuw Amsterdam. After your cruise enjoy a further two nights in
Vancouver before boarding the award-wining Rocky Mountaineer train. Retrace the
steps of 19th century explorers, travel through the legendary Spiral Tunnels and pass
by the spot where the last spike on the Canadian Pacific Railway was driven as you
make your way from Vancouver to Banff.
Rocky Mountaineer
Yellowhead Elk
THE SILVERLEAF EXPERIENCE
• Enjoy panoramic views from oversized windows in our single-level dome coach
• Relax in reclining dome-level seats
• Delicious, hot entrée options served at your comfortable seats and plated to
your preference
• Complimentary beverages, including wine, beer, spirits and non-alcoholic drinks
will be served throughout the journey, along with gourmet snacks
• Luggage delivered to your hotel in Kamloops.
WHAT'S INCLUDED:
✥ Return flights from London Gatwick or London Heathrow
✥ Transfers as shown
✥ 7-night full-board cruise onboard the 5-star ms Nieuw Amsterdam
✥ Hotel accommodation based on double occupancy (3 nights' Vancouver/
1 night Kamloops/2 nights' Banff)
✥ Admission to the Vancouver Lookout, for a bird's eye view of the city of
Vancouver & National Parks Pass, Banff
✥ 2-day all-daylight rail journey in SilverLeaf Service onboard
Rocky Mountaineer from Vancouver to Banff including two breakfasts, two lunches
and complimentary alcoholic and non-alcoholic beverages and snacks
✥ Upgrades to GoldLeaf Service available from £320pp
ITINERARY:
Day 1 - Vancouver: Fly direct from London to Vancouver. Transfer provided from the airport to
the 4-star Georgian Court Hotel, Vancouver.
Day 2 - Vancouver: Morning at leisure to explore Vancouver. Transfer independently to
Vancouver Cruise Terminal to join the ms Nieuw Amsterdam for your 7-night Alaskan Cruise. FB
Day 3 - Cruise the Inside Passage: FB
Day 4 - Tracy Arm Fjord & Juneau, Alaska: FB
Day 5 - Skagway, Alaska: FB
Day 6 - Cruise Glacier Bay: FB
Day 7 - Ketchikan, Alaska: FB
Day 8 - Cruise the Inside Passage: FB
Day 9 - Vancouver: Disembark the ship and transfer independently to the 4-star Georgian
Court Hotel. Enjoy a day and evening at leisure. B
Day 10 - Vancouver: Enjoy a further day and evening at leisure to explore Vancouver. Perhaps
take advantage of your included admission to the Vancouver Lookout and take a 40 second glass
elevator ride to the panoramic observation deck and enjoy a 360º aerial view of Vancouver.
Day 11 - Vancouver to Kamloops: Transfer provided from your hotel to join Rocky Mountaineer
from Vancouver to Kamloops. Highlights include the rushing waters of Hell's Gate in the Fraser
Canyon and the steep slopes and rock sheds along the Thompson River. Transfer provided to
Kamloops Hotel. B, L
Day 12 - Kamloops to Banff: Transfer provided from Kamloops Hotel where your journey
continues eastwards to the mighty Canadian Rockies and the province of Alberta. Highlights
include Craigellachie, where the last spike of the Canadian Pacific Railway was driven, Rogers
Pass, the Kicking Horse Canyon, the Spiral Tunnels and the glaciers and snow-capped peaks of
the Canadian Rockies. Transfer provided to the Banff Caribou Lodge hotel. B, L
Day 13 - Banff: Enjoy a day at leisure and take advantage of your National Park Pass to explore
the spectacular lakes and mountains of Banff National Park
Day 14 - Transfer provided from your hotel to Calgary airport for your direct overnight
flight home.
THE FOLLOWING MEALS ARE INCLUDED: B: Breakfast; L: Lunch; D: Dinner
Date Interior Oceanview Balcony
May 2017 £2699 £2799 £3099
Jun 2017 SOLD SOLD SOLD
Jul 2017 £3049 £3199 £3649
Aug 2017 £2799 £2979 £3249
Sep 2017 £2799 £2979 £3249
May 2018 £2929 £3089 £3339
Jun 2018 £3099 £3299 £3549
Jul 2018 £3249 £3479 £3899
Aug 2018 £3249 £3379 £3699
Sep 2018 £2939 £3099 £3399
Departs weekly on a Friday. Prices are from and are based on flights from London Heathrow.
*From price based on 22 September 2017.
2018 ON SALE NOW!