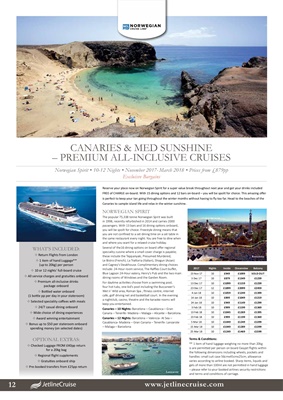 12
Reserve your place now on Norwegian Spirit for a super value break throughout next year and get your drinks included
FREE of CHARGE on-board. With 15 dining options and 12 bars on-board - you will be spoilt for choice. This amazing offer
is perfect to keep your tan going throughout the winter months without having to fly too far. Head to the beaches of the
Canaries to sample island life and relax in the winter sunshine.
NORWEGIAN SPIRIT
The popular 75,338 tonne Norwegian Spirit was built
in 1998, recently refurbished in 2014 and carries 2000
passengers. With 13 bars and 16 dining options onboard,
you will be spoilt for choice. Freestyle dining means that
you are not confined to a set dining time on a set table in
the same restaurant every night. You are free to dine when
and where you want for a relaxed cruise holiday.
Several of the16 dining options on board offer regional
speciality cuisine where a small cover charge is payable;
these include the Teppanyaki, Presumed Murdered,
Le Bistro (French), La Trattoria (Italian), Shogun (Asian)
and Cagney's Steakhouse. Complimentary dining choices
include: 24-Hour room service, The Raffles Court buffet,
Blue Lagoon 24-Hour eatery, Henry's Pub and the two main
dining rooms of Windows and the Garden Room.
For daytime activities choose from a swimming pool,
four hot tubs, one kid's pool including the Buccaneer's
Wet n' Wild area, Roman Spa , fitness centre, internet
cafe, golf driving net and basketball court. In the evening
a nightclub, casino, theatre and the karaoke rooms will
keep you entertained.
Canaries - 10 Nights: Barcelona - Casablanca - Gran
Canaria - Tenerife- Madeira - Malaga - Alicante - Barcelona.
Canaries - 12 Nights: Barcelona - Valencia- At Sea -
Casablanca- Madeira - Gran Canaria - Tenerife- Lanzarote
- Malaga - Barcelona
Terms & Conditions:
** 1 item of hand luggage weighing no more than 20kg
is are permitted per person on board Easyjet flights within
the following dimensions including wheels, pockets and
handles: small suit case 56cmx45cmx25cm; allowance
varies according to airline booked. Sharp items, liquids and
gels of more than 100ml are not permitted in hand luggage
- please refer to your booked airlines security restrictions
and terms and conditions of carriage.
CANARIES & MED SUNSHINE
- PREMIUM ALL-INCLUSIVE CRUISES
Norwegian Spirit • 10-12 Nights • November 2017- March 2018 • Prices from £879pp
Excluisve Bargains
WHAT'S INCLUDED:
✥ Return Flights from London
✥ 1 item of hand Luggage**
(up to 20kg) per person
✥ 10 or 12 nights' full-board cruise
✥ All service charges and gratuities onboard
✥ Premium all-inclusive drinks
package onboard
✥ Bottled water onboard
(1 bottle pp per day in your stateroom)
✥ Selected speciality coffees with meals
✥ 24/7 casual dining onboard
✥ Wide choice of dining experiences
✥ Award winning entertainment
✥ Bonus up to $50 per stateroom onboard
spending money (on selected dates)
OPTIONAL EXTRAS:
✥ Checked Luggage FROM £40pp return
for a 20kg bag
✥ Regional flight supplements
✥ Gratuities onboard ship
✥ Pre-booked transfers from £25pp return
Barcelona
Lanzarote
2017 Nights Inside Oceanview Balcony
23 Nov 17 10 £949 £1099 SOLD OUT
3 Dec 17 10 £879 £1349 £1239
13 Dec 17 10 £1099 £1159 £1239
23 Dec 17 12 £1899 £2099 £2459
4 Jan 18 10 £1059 £1249 £1399
14 Jan 18 10 £899 £1049 £1219
24 Jan 18 10 £949 £1149 £1299
3 Feb 18 10 £999 £1199 £1369
13 Feb 18 10 £1045 £1269 £1395
23 Feb 18 10 £999 £1199 £1369
5 Mar 18 10 £1049 £1249 £1399
15 Mar 18 10 £1049 £1289 £1399
25 Mar 18 10 £1249 £1469 £1599