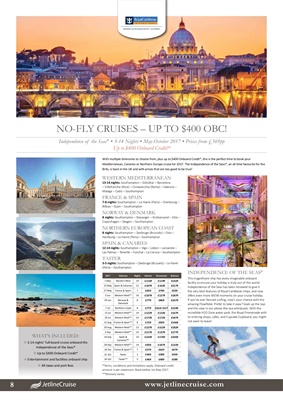 8
WESTERN MEDITERRANEAN
13-14 nights: Southampton - Gibraltar - Barcelona
- Villefranche (Nice) - Civitavecchia (Rome) - Valencia -
Malaga - Cadiz - Southampton
FRANCE & SPAIN
7-8 nights: Southampton - Le Havre (Paris) - Cherbourg -
Bilbao - Gijon - Southampton
NORWAY & DENMARK
8 nights: Southampton - Stavanger - Kristiansand - Oslo -
Copenhagen - Skagen - Southampton
NORTHERN EUROPEAN COAST
8 nights: Southampton - Zeebruge (Brussels) - Oslo -
Hamburg - Le Havre (Paris) - Southampton
SPAIN & CANARIES
12-14 nights: Southampton - Vigo - Lisbon - Lanzarote -
Las Palmas - Tenerife - Funchal - La Coruna - Southampton
TASTER
3-5 nights: Southampton - Zeebruge (Brussels) - Le Havre
(Paris) - Southampton
2017 Itinerary Nights Interior Oceanview Balcony
1 May Western Med 14 £1169 £1199 £1429
15 May Spain & Canaries 12 £1079 £1629 £2179
27 May France & Spain 7 £659 £799 £929
3 Jun Western Med** 14 £1079 £1279 £1879
29 Jun Norway &
Denmark
8 £779 £869 £1679
7 Jul Northern Coast 8 £779 SOLD OUT £1549
15 Jul Western Med** 14 £1229 £1329 £1679
29 Jul Western Med** 14 £1729 £1729 £1879
12 Aug France & Spain** 8 £729 £929 £1469
20 Aug Western Med** 13 £1379 £1529 £1829
2 Sep Western Med** 14 £1179 £1379 £1779
16 Sep Spain &
Canaries**
14 £1429 £1769 £2269
30 Sep Western Med** 14 £929 £1079 £1329
14 Oct France & Spain** 7 £579 £629 £679
21 Oct Taster 3 £369 £389 £459
24 Oct Taster** 5 £469 £489 £589
*Terms, conditions and limitations apply. Onboard credit
amount is per stateroom. Book before 1st May 2017.
**Itinerary varies.
NO-FLY CRUISES - UP TO $400 OBC!
Independence of the Seas® • 3-14 Nights • May-October 2017 • Prices from £369pp
Up to $400 Onboard Credit!*
WHAT'S INCLUDED:
✥ 3-14 nights' full-board cruise onboard the
Independence of the Seas®
✥ Up to $400 Onboard Credit*
✥ Entertainment and facilities onboard ship
✥ All taxes and port fees
With multiple itineraries to choose from, plus up to $400 Onboard Credit*, this is the perfect time to book your
Mediterranean, Canaries or Northern Europe cruise for 2017. The Independence of the Seas®, an all time favourite for the
Brits, is back in the UK and with prices that are too good to be true!
INDEPENDENCE OF THE SEAS®
This magnificent ship has every imaginable onboard
facility to ensure your holiday is truly out of this world.
Independence of the Seas has been renewed to give it
the very best features of Royal Caribbean ships, and now
offers even more WOW moments on your cruise holiday.
If you've ever fancied surfing, now's your chance with the
amazing FlowRider. Prefer to take it easy? Soak up the rays
and the view in our above-the-sea whirlpools. With the
incredible H2O Zone water park, the Royal Promenade with
its enticing shops, cafes, and Cupcake Cupboard, you might
not want to leave!