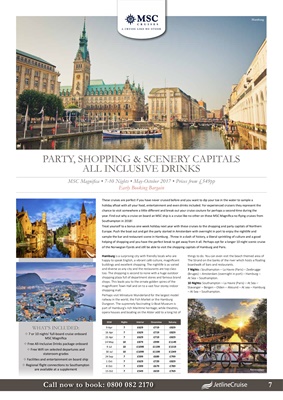 Call now to book: 0800 082 2170 7
WHAT'S INCLUDED:
✥ 7 or 10 nights' full-board cruise onboard
MSC Magnifica
✥ Free All-Inclusive Drinks package onboard
✥ Free WiFi on selected departures and
stateroom grades
✥ Facilities and entertainment on board ship
✥ Regional flight connections to Southampton
are available at a supplement
These cruises are perfect if you have never cruised before and you want to dip your toe in the water to sample a
holiday afloat with all your food, entertainment and even drinks included. For experienced cruisers they represent the
chance to visit somewhere a little different and break out your cruise couture for perhaps a second time during the
year. Find out why a cruise on board an MSC ship is a cruise like no other on these MSC Magnifica no-flying cruises from
Southampton in 2018!
Treat yourself to a bonus one week holiday next year with these cruises to the shopping and party capitals of Northern
Europe. Push the boat out and get the party started in Amsterdam with overnight in port to enjoy the nightlife and
sample the bar and restaurant scene in Hamburg . Throw in a dash of history, a liberal sprinkling of culture and a good
helping of shopping and you have the perfect break to get away from it all. Perhaps opt for a longer 10 night scenic cruise
of the Norwegian Fjords and still be able to visit the shopping capitals of Hamburg and Paris.
Hamburg is a surprising city with friendly locals who are
happy to speak English, a vibrant café culture, magnificent
buildings and excellent shopping. The nightlife is as varied
and diverse as any city and the restaurants are top class
too. The shopping is second to none with a huge outdoor
shopping plaza full of department stores and famous brand
shops. This leads you to the ornate golden spires of the
magnificent Town Hall and on to a vast four storey indoor
shopping mall.
Perhaps visit Miniature Wunderland for the largest model
railway in the world, the Fish Market or the Hamburg
Dungeon. The supremely fascinating U-Boat Museum is
part of Hamburg's rich Maritime heritage; while theatres,
opera houses and boating on the Alster add to a long list of
things to do. You can even visit the beach themed area of
The Strand on the banks of the river which hosts a floating
boardwalk of bars and restaurants.
7 Nights : Southampton - La Havre (Paris) - Zeebrugge
(Bruges) - Amsterdam (overnight in port) - Hamburg -
At Sea - Southampton.
10 Nights: Southampton - La Havre (Paris) - At Sea -
Stavanger - Bergen - Olden - Alesund - At sea - Hamburg
- At Sea - Southampton.
PARTY, SHOPPING & SCENERY CAPITALS
ALL INCLUSIVE DRINKS
MSC Magnifica • 7-10 Nights • May-October 2017 • Prices from £549pp
Early Booking Bargain
Hamburg
Amsterdam
Bruges
Alesund
2018 Nights Interior Oceanview Balcony
9 Apr 7 £629 £719 £829
16 Apr 7 £629 £719 £829
23 Apr 7 £629 £719 £829
14 May 10 £879 £999 £1149
9 Jul 10 £1099 £1199 £1319
30 Jul 10 £1099 £1199 £1349
24 Sep 7 £599 £689 £799
1 Oct 7 £629 £729 £829
8 Oct 7 £599 £679 £789
15 Oct 7 £549 £659 £769