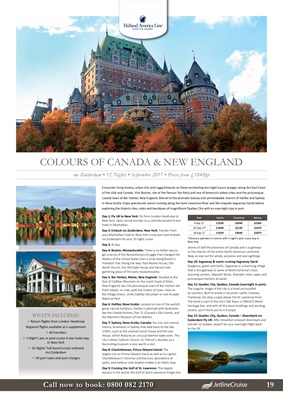 Call now to book: 0800 082 2170 19
Date Interior Oceanview Balcony
9 Sep 17 £1929 £2049 £2369
20 Sep 17* £1849 £2129 £2479
29 Sep 17 £1929 £2049 £2879
*Itinerary operates in reverse with 1 night's post cruise stay in
New York
WHAT'S INCLUDED:
✥ Return flights from London Heathrow
Regional flights available at a supplement
✥ All transfers
✥ 1 Night's pre or post-cruise 4-star hotel stay
in New York
✥ 10 Nights' full-board cruise onboard
ms Zuiderdam
✥ All port taxes and port charges
Encounter living history, urban chic and rugged beauty on these enchanting ten-night luxury voyages along the East Coast
of the USA and Canada. Visit Boston, site of the famous Tea Party and one of America's oldest cities and the picturesque
coastal town of Bar Harbor, New England. Marvel at the dramatic beauty and unmistakable charms of Halifax and Sydney
in Nova Scotia. Enjoy spectacular scenic cruising along the Saint Lawrence River and the majestic Saguenay Fjords before
exploring the historic sites, cafes and boutiques of magnificent Quebec City with an overnight stay in port.
Day 1: Fly UK to New York: Fly from London Heathrow to
New York. Upon arrival transfer to a centrally located 4-star
hotel in Manhattan.
Day 2: Embark ms Zuiderdam, New York: Transfer from
your Manhattan hotel to New York cruise port and embark
ms Zuiderdam for your 10 night cruise.
Day 3: At Sea
Day 4: Boston, Massachusetts: There is no better way to
get a sense of the Revolutionary struggle that changed the
destiny of the United States than a stroll along Boston's
Freedom Trail. Along the way: Paul Revere House, Old
North Church, the Old State House and Faneuil Hall,
gathering place of the early revolutionaries.
Day 5: Bar Harbor, Maine, New England: Situated at the
foot of Cadillac Mountain on the south Coast of Main,
New England, lays the picturesque town of Bar Harbor. Eat
fresh lobster, or crab, walk the streets of town, relax on
the Village Green, climb Cadillac Mountain or visit Arcadia
National Park.
Day 6: Halifax, Nova Scotia: Located on one of the world's
great natural harbours, Halifax is adorned with landmarks
like the Citadel fortress, Pier 21 (Canada's Ellis Island), and
the Maritime Museum of the Atlantic.
Day 7: Sydney, Nova Scotia, Canada: You can visit several
historic landmarks in Sydney that date back to the late
1700's, such as the colonial Cossit House and the Jost
House, which features an unusual beehive bake-oven. The
city's oldest Catholic Church, St. Patrick's, doubles as a
fascinating museum is also worth a visit.
Day 8: Charlottetown, Prince Edward Island: The
largest city on Prince Edward Island as well as its capital,
Charlottetown's Victorian architecture, abundance of
parks, and harbour side location makes it an idyllic stop.
Day 9: Cruising the Gulf of St. Lawrence: The largest
estuary in the world, the Gulf of Saint Lawrence fringes the
shores of half the provinces of Canada and is a gateway
to the interior of the entire North American continent.
Keep an eye out for whale, porpoise and seal sightings.
Day 10: Saguenay & scenic cruising Saguenay Fjord:
Gorgeous, green and Gallic, Saguenay is a charming village
that is the gateway to some of North America's most
stunning scenery. Majestic fjords, dramatic rocky capes and
picturesque hamlets all await.
Day 11: Quebec City, Quebec, Canada (overnight in port):
The singular image of the city is a hotel surrounded
by cannons. Built to evoke a mountain castle, Chateau
Frontenac sits atop a cape above the St. Lawrence River.
The hotel is part of the city's Old Town, a UNESCO World
Heritage Site, and with all the stone buildings and winding
streets, you'll think you're in Europe.
Day 12: Quebec City, Quebec, Canada - Disembark ms
Zuiderdam Fly UK: After breakfast onboard disembark and
transfer to Quebec airport for your overnight flight back
to the UK.
COLOURS OF CANADA & NEW ENGLAND
ms Zuiderdam • 12 Nights • September 2017 • Prices from £1849pp