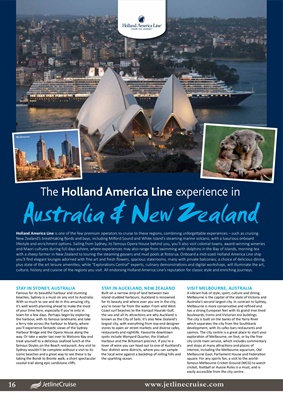 STAY IN SYDNEY, AUSTRALIA
Famous for its beautiful harbour and stunning
beaches, Sydney is a must on any visit to Australia.
With so much to see and do in this amazing city,
it's well worth planning ahead to make the most
of your time here, especially if you're only in
town for a few days. Perhaps begin by exploring
the harbour, with its famous landmarks and take
a ferry ride across the harbour to Manly, where
you'll experience fantastic views of the Sydney
Harbour Bridge and the Opera House along the
way. Or take a water taxi over to Watsons Bay and
treat yourself to a delicious seafood lunch at the
famous Doyles on the Beach restaurant. Any visit to
Sydney wouldn't be complete without a visit to its
iconic beaches and a great way to see these is by
taking the Bondi to Bronte walk, a short spectacular
coastal trail along epic sandstone cliffs.
STAY IN AUCKLAND, NEW ZEALAND
Built on a narrow strip of land between two
island-studded harbours; Auckland is renowned
for its beauty and where ever you are in the city,
you're never far from the water. From wild West
Coast surf beaches to the tranquil Hauraki Gulf,
the sea and all its attractions are why Auckland is
known as the City of Sails. It's also New Zealand's
largest city, with everything from top-end designer
stores to open air street markets and diverse cafes,
restaurants and nightlife. Favourite downtown
spots include Wynyard Quarter, the Viaduct
Harbour and the Britomart precinct. If you're a
lover of wine you can head out to one of Auckland's
four distinct wine districts, where you can sample
the local wine against a backdrop of rolling hills and
the sparkling ocean.
VISIT MELBOURNE, AUSTRALIA
A vibrant hub of style, sport, culture and dining,
Melbourne is the capital of the state of Victoria and
Australia's second largest city. In contrast to Sydney,
Melbourne is more conservative and refined and
has a strong European feel with its grand tree lined
boulevards, trams and Victorian era buildings.
The city is built on the banks of the Yarra River
which separates the city from the Southbank
development, with its cafes bars restaurants and
casinos. The city centre is a great place to start your
exploration of Melbourne, on foot, or by the free
city circle tram service, which includes commentary
and stops at many attractions and places of
interest, including the Melbourne aquarium, Old
Melbourne Gaol, Parliament House and Federation
square. For any sports fan, a visit to the worldfamous
Melbourne Cricket Ground (MCG) to watch
cricket, football or Aussie Rules is a must, and is
easily accessible from the city centre.
Holland America Line is one of the few premium operators to cruise to these regions, combining unforgettable experiences - such as cruising
New Zealand's breathtaking fjords and bays, including Milford Sound and White Island's steaming marine volcano, with a luxurious onboard
lifestyle and enrichment options. Sailing from Sydney, its famous Opera House behind you, you'll also visit colonial towns, award-winning wineries
and Maori cultures during full days ashore, where experiences may also range from swimming with dolphins in the Bay of Islands, morning tea
with a sheep farmer in New Zealand to touring the steaming geysers and mud pools at Rotorua. Onboard a mid-sized Holland America Line ship
you'll find elegant lounges adorned with fine art and fresh flowers, spacious staterooms, many with private balconies; a choice of delicious dining,
plus state of the art leisure amenities; while "Explorations Central" experts, culinary demonstrations and digital workshops, will illuminate the art,
culture, history and cuisine of the regions you visit. All endorsing Holland America Line's reputation for classic style and enriching journeys.
16
The Holland America Line experience in
Australia & New Zealand
Melbourne