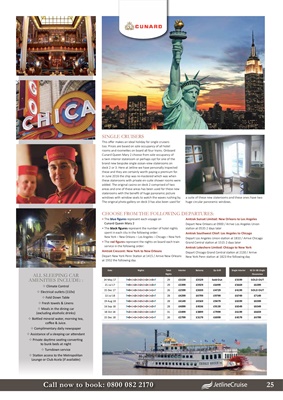 Call now to book: 0800 082 2170 25
ALL SLEEPING CAR
AMENITIES INCLUDE: :
✥ Climate Control
✥ Electrical outlets (110v)
✥ Fold Down Table
✥ Fresh towels & Linens
✥ Meals in the dining car
(excluding alcoholic drinks)
✥ Bottled mineral water, morning tea,
coffee & Juice.
✥ Complimentary daily newspaper
✥ Assistance of a sleeping car attendant
✥ Private daytime seating converting
to bunk beds at night
✥ Turndown service
✥ Station access to the Metropolitan
Lounge or Club Acela (if available)
SINGLE CRUISERS
This offer makes an ideal holiday for single cruisers
too. Prices are based on sole occupancy of all hotel
rooms and roomettes on board all four trains. Onboard
Cunard Queen Mary 2 choose from sole occupancy of
a twin interior stateroom or perhaps opt for one of the
brand new bespoke single ocean-view staterooms on
deck 2 or 3. Here at Jetline we have personally inspected
these and they are certainly worth paying a premium for.
In June 2016 the ship was re-mastered which was when
these staterooms with private en-suite shower rooms were
added. The original casino on deck 2 comprised of two
areas and one of these areas has been used for these new
staterooms with the benefit of huge panoramic picture
windows with window seats to watch the waves rushing by.
The original photo gallery on deck 3 has also been used for
a suite of these new staterooms and these ones have two
huge circular panoramic windows.
CHOOSE FROM THE FOLLOWING DEPARTURES:
• The blue figures represent each voyage on
Cunard Queen Mary 2
• The black figures represent the number of hotel nights
spent in each city in the following order:
New York - New Orleans - Los Angeles - Chicago - New York
• The red figures represent the nights on board each train
service in the following order:
Amtrak Crescent: New York to New Orleans
Depart New York Penn Station at 1415 / Arrive New Orleans
at 1932 the following day
Amtrak Sunset Limited: New Orleans to Los Angeles
Depart New Orleans at 0900 / Arrive Los Angeles Union
station at 0535 2 days later
Amtrak Southwest Chief: Los Angeles to Chicago
Depart Los Angeles Union station at 1810 / Arrive Chicago
Grand Central station at 1515 2 days later
Amtrak Lakeshore Limited: Chicago to New York
Depart Chicago Grand Central station at 2130 / Arrive
New York Penn station at 1823 the following day
Date Nights Total
Nights
Interior Balcony Qu Grill Single Interior KC Or KB Single
Oceanview
24 May 17 7+0+1+2+2+2+2+2+1+3+7 29 £3159 £3529 Sold Out £5599 SOLD OUT
21 Jul 17 7+0+1+2+2+2+2+2+1+3+7 29 £3399 £3929 £6499 £5669 £6399
15 Dec 17 7+0+1+2+2+1+2+2+1+1+7 26 £2599 £3039 £4729 £4199 SOLD OUT
13 Jul 18 7+0+1+2+2+2+2+2+1+2+7 28 £4299 £4799 £9799 £6749 £7149
19 Aug 18 7+0+1+2+2+2+2+2+1+2+7 28 £4149 £4569 £9479 £6599 £6599
16 Sep 18 7+0+1+2+2+2+2+2+1+2+7 28 £4099 £4536 £9139 £6549 £6549
18 Oct 18 7+2+1+3+2+2+2+2+1+2+7 31 £3499 £3899 £7999 £6199 £6659
15 Dec 18 7+0+1+1+2+2+2+2+1+1+7 26 £2799 £3179 £6999 £4579 £4799