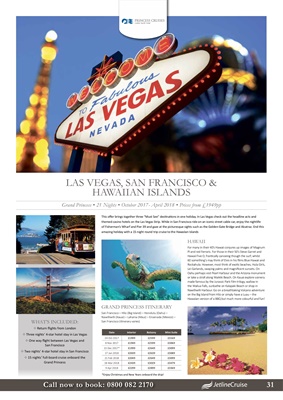 Call now to book: 0800 082 2170 31
GRAND PRINCESS ITINERARY
San Francisco - Hilo (Big Island) - Honolulu (Oahu) -
Nawilliwilli (Kauai) - Lahaina (Maui) - Ensenada (Mexico) -
San Francisco (itinerary varies)
Date Interior Balcony Mini-Suite
24 Oct 2017 £1999 £2599 £3169
8 Nov 2017 £1949 £2599 £3069
13 Dec 2017* £1999 £2649 £3099
17 Jan 2018 £2039 £2639 £3089
21 Feb 2018 £2049 £2649 £3099
18 Mar 2018 £2439 £3029 £3479
9 Apr 2018 £2299 £2899 £3369
*Enjoy Christmas and New Years onboard the ship!
LAS VEGAS, SAN FRANCISCO &
HAWAIIAN ISLANDS
Grand Princess • 21 Nights • October 2017- April 2018 • Prices from £1949pp
WHAT'S INCLUDED:
✥ Return flights from London
✥ Three nights' 4-star hotel stay in Las Vegas
✥ One way flight between Las Vegas and
San Francisco
✥ Two nights' 4-star hotel stay in San Francisco
✥ 15 nights' full-board cruise onboard the
Grand Princess
This offer brings together three "Must See" destinations in one holiday. In Las Vegas check out the headline acts and
themed casino hotels on the Las Vegas Strip. While in San Francisco ride on an iconic street cable car, enjoy the nightlife
of Fisherman's Wharf and Pier 39 and gaze at the picturesque sights such as the Golden Gate Bridge and Alcatraz. End this
amazing holiday with a 15 night round trip cruise to the Hawaiian Islands
HAWAII
For many in their 40's Hawaii conjures up images of Magnum
PI and red Ferraris. For those in their 50's Steve Garret and
Hawaii Five O, frantically canoeing though the surf; whilst
60 something's may think of Elvis in his films Blue Hawaii and
Rockahula. However, most think of exotic beaches, Hula Girls,
Lei Garlands, swaying palms and magnificent sunsets. On
Oahu perhaps visit Pearl Harbour and the Arizona monument
or take a stroll along Waikiki Beach. On Kauai explore scenery
made famous by the Jurassic Park Film trilogy, wallow in
the Wailua Falls, sunbathe on Kalapaki Beach or shop in
Nawilliwilli Harbour. Go on a breathtaking Volcano adventure
on the Big Island from Hilo or simply have a Luau - the
Hawaiian version of a BBQ but much more colourful and fun!