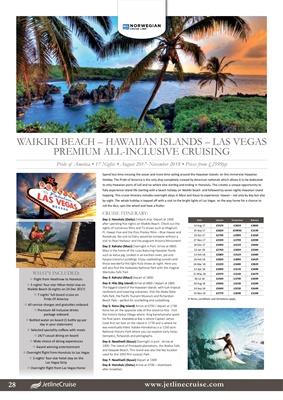 28
WHAT'S INCLUDED:
✥ Flight from Heathrow to Honolulu
✥ 5 nights' four-star Hilton Hotel stay on
Waikiki Beach (6 nights on 24 Dec 2017)
✥ 7 nights' full-board cruise on
Pride Of America
✥ All service charges and gratuities onboard
✥ Premium All-Inclusive drinks
package onboard
✥ Bottled water on-board (1 bottle pp per
day in your stateroom)
✥ Selected speciality coffees with meals
✥ 24/7 casual dining on-board
✥ Wide choice of dining experiences
✥ Award winning entertainment
✥ Overnight flight from Honolulu to Las Vegas
✥ 3 nights' four-star hotel stay on the
Las Vegas Strip
✥ Overnight flight from Las Vegas Home
CRUISE ITINERARY:
Day 1: Honolulu (Oahu) Embark ship. Depart at 1900
after spending five nights on Waikiki Beach. Check out the
sights of numerous films and TV shows such as Magnum
PI, Hawaii Five and the Elvis Presley films - Blue Hawaii and
Rockahula. No visit to Oahu would be compete without a
visit to Pearl Harbour and the poignant Arizona Monument.
Day 2: Kahului (Maui) Overnight in Port. Arrive at 0800.
Maui is the home of the Luau featuring Hawaiian foods
such as kalua pig, cooked in an earthen oven, poi and
haupia (coconut pudding). Enjoy captivating sunsets and
those wonderful fire light Hula shows at night. Here you
will also find the Haleakala National Park with the magical
Waimoku Falls Trail.
Day 3: Kahului (Maui) Depart at 1800.
Day 4: Hilo (Big Island) Arrive at 0800 / depart at 1800.
The biggest island of the Hawaiian Islands with lush tropical
rainforests and towering volcanoes. Visit the Akaka State
Falls Park, the Pacific Tsunami Museum and Richardson
Beach Park - perfect for snorkelling and sunbathing.
Day 5: Kona (Big Island) Arrive at 0700 / depart at 1730.
Kona lies on the opposite side of the island to Hilo. Visit
the historic Kailua Village where King Kamehameha spent
his final years. Kealakekua Bay is where Captain James
Cook first set foot on the island in 1778 and is where he
was eventually killed. Kaloko-Honokohau is a 1160 acre
National Historic Park where you can explore early heiau
(temples), fishponds and petroglyphs.
Day 6: Nawiliwili (Kauai) Overnight in port . Arrive at
1000. The island of Pineapple plantations, the Wailua Falls
and Kalapaki Beach. This island was also the key location
used for the 1993 film Jurassic Park.
Day 7: Nawiliwili (Kauai) Depart at 1400
Day 8: Honolulu (Oahu) Arrive at 0700 - disembark
after breakfast.
WAIKIKI BEACH - HAWAIIAN ISLANDS - LAS VEGAS
PREMIUM ALL-INCLUSIVE CRUISING
Pride of America • 17 Nights • August 2017-November 2018 • Prices from £2599pp
Spend less time crossing the ocean and more time sailing around the Hawaiian Islands on this immersive Hawaiian
Holiday. The Pride of America is the only ship completely crewed by American nationals which allows it to be dedicated
to only Hawaiian ports of call and no-where else starting and ending in Honolulu. This creates a unique opportunity to
fully experience island life starting with a beach holiday on Waikiki beach and followed by seven nights Hawaiian island
hopping. This cruise itinerary includes overnight stops in Maui and Kauai to experience Hawaii - not only by day but also
by night. The whole holiday is topped off with a visit to the bright lights of Las Vegas on the way home for a chance to
roll the dice, spin the wheel and have a flutter.
Date Interior Oceanview Balcony
14 Aug 17 £3529 £3659 £3869
25 Sep 17 £2829 £29992 £3199
23 Oct 17 £2799 £2999 £3269
27 Nov 17 £2599 £2799 £2999
24 Dec 17 £3949 £4139 £4469
22 Jan 18 £2769 £3039 £3369
12 Feb 18 £2889 £3159 £3489
26 Feb 18 £2829 £3099 £3429
26 Mar 18 £3229 £3489 £3829
23 Apr 18 £2899 £3159 £3489
21 May 18 £2979 £3169 £3479
30 Jul 18 £3599 £3799 £3999
20 Aug 18 £3049 £3239 £3399
24 Sep 18 £3049 £3239 £3449
19 Nov 18 £2779 £3049 £3249
# Terms, conditions and limitations apply.