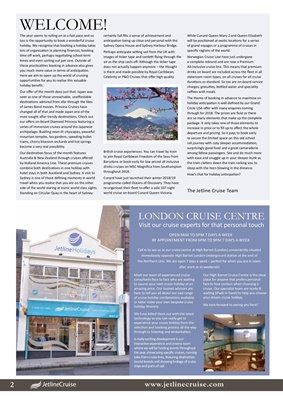 2
Call in to see us at our cruise centre at High Barnet (London) conveniently situated
immediately opposite High Barnet London Underground station at the end of
the Northern Line. We are open 7 days a week - perfect for when you are in town,
after work or at weekends!
Meet our team of experienced cruise
consultants face to face who are waiting
to source your next cruise holiday at an
amazing price. Our trained advisors are
here to tell you all about our vast range
of cruise holiday combinations available
or tailor make your own bespoke cruise
holiday itinerary.
We have kitted them out with the latest
technology so you can really get to
experience your cruise holiday from the
selection and booking process all the way
through to ticketing and embarkation.
A really exciting development is our
interactive experience and cinema room
where we will be hosting events throughout
the year, showcasing specific cruises, running
talks from cruise lines, featuring destination
tourist boards and showing footage of cruise
ships and ports of call.
Our High Barnet Cruise Centre is the ideal
place for anyone that prefers personal
face to face contact when choosing a
cruise. Our specialist team are ready &
waiting (iPads in hand) to help you choose
your dream cruise holiday.
We look forward to seeing you here!
OPEN 9AM TO 6PM 7 DAYS A WEEK
BY APPOINTMENT FROM 6PM TO 9PM 7 DAYS A WEEK
LONDON CRUISE CENTRE
Visit our cruise experts for that personal touch
The year seems to rolling on at a fast pace and so
too is the opportunity to book a wonderful cruise
holiday. We recognise that booking a holiday takes
lots of organisation in planning finances, booking
time off work, perhaps negotiating school term
times and even sorting out pet care. Outside of
these practicalities booking in advance also gives
you much more value in terms of anticipation.
Here we aim to open up the world of cruising
opportunities for you to realise this valuable
holiday benefit.
Our offer of the month does just that. Japan was
seen as one of those unreachable, unaffordable
destinations admired from afar through the likes
of James Bond movies. Princess Cruises have
changed all of that and made Japan one of the
most sought after trendy destinations. Check out
our offers on-board Diamond Princess featuring a
series of immersive cruises around the Japanese
archipelago. Bustling neon-lit cityscapes, peaceful
mountain temples, tea gardens, speeding bullet
trains, cherry blossom orchards and hot springs
become a very real possibility.
Our destination focus of the month features
Australia & New Zealand through cruises offered
by Holland America Line. These premium cruises
combine both destinations in one holiday with
hotel stays in both Auckland and Sydney. A visit to
Sydney is one of those defining moments in world
travel when you realise that you are on the other
side of the world staring at iconic world class sights.
Standing on Circular Quay in the heart of Sydney
certainly full fills a sense of achievement and
anticipation being up close and personal with the
Sydney Opera House and Sydney Harbour Bridge.
Perhaps anticipate setting sail from the UK with
images of ticker tape and confetti flying through the
air as the ship casts off. Although the ticker tape
does not actually happen anymore - the thought
is there and made possible by Royal Caribbean,
Celebrity or P&O Cruises that offer high quality
British cruise experiences. You can travel by train
to join Royal Caribbean Freedom of the Seas from
Barcelona or book early for low priced all inclusive
drinks cruises on MSC Magnifica from Southampton
throughout 2018.
Cunard have just launched their winter 2018/19
programme called Oceans of Discovery. They have
re-organised their fleet to offer a sole 107 night
world cruise on-board Cunard Queen Victoria.
While Cunard Queen Mary 2 and Queen Elizabeth
will be positioned at exotic locations for a series
of grand voyages or a programme of cruises in
specific regions of the world.
Norwegian Cruise Line have just undergone
a complete rebrand and are now a Premium
All-Inclusive cruise line. This means that premium
drinks on board are included across the fleet in all
stateroom room types, on all cruises for all cruise
durations as standard. So too are on-board service
charges, gratuities, bottled water and speciality
coffees with meals.
The theme of booking in advance to maximise on
holiday anticipation is well defined by our Grand
Circle USA offer with many enquires coming
through for 2018. The prices are fluid as there
are so many elements that make up the complete
package. It only takes one of those elements to
increase in price or to fill up to affect the whole
departure and pricing. So it pays to book early
to secure the limited space on this old school
rail journey with cosy sleeper accommodation;
surprisingly good food and a great camaraderie
among fellow passengers. See and do much more
with ease and snuggle up in your sleeper bunk as
the train clatters down the train rocking you to
sleep with the horn blowing in the distance.
How's that for holiday anticipation?
The Jetline Cruise Team
WELCOME!
Japan