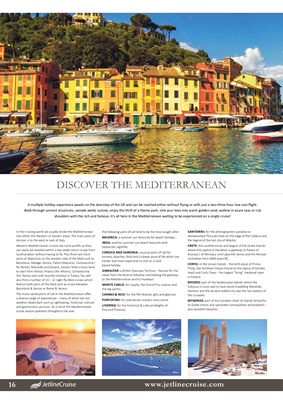 www.jetlinecruise.com Call now to book: 0800 082 2170
30 31
MSC FANTASIA
MSC Fantasia is the flagship of the acclaimed Fantasia
fleet of four ships featuring Italian panache, dazzling
colours, artistic styling and lots of marble which combine
to create a convivial atmosphere and a vibrant memories.
Among the expansive range of facilities on board you will
find a Formula 1 simulator, Virtual World, an interactive
4D cinema and the luxurious MSC Aurea Spa featuring a
thermal cave. There are four pools including a covered pool
solarium, a separate kids pool, an adults' only sanctuary
and 12 whirlpools. The Dining aboard MSC Fantasia
comes in the form of four Restaurants. There are two main
restaurants, a buffet restaurant, Tex-Mex restaurant and a
Pizzeria.
MSC Fantasia bristles with features and facilities like
squash courts, a 4D cinema and an F1 simulator. The
spectacular main pool complex is one of four pool areas
on-board with 150 fountains and water jets to provide fun
and a great antidote to the Caribbean sunshine! Soak up
the sun in style in the peaceful adults-only sanctuary of
serenity. Top 18 boasts premium deck space and stunning
sea views, not forgetting its own dedicated spa service,
bar menu and complimentary fruit skewers. On-board
you will find designer-themed lounge bars and varied
entertainment, including a piano bar, jazz bar and Sports
Bar with video-games and live event screenings. Have a
flutter in the opulent Monte Carlo Casino, dance the night
away in the panoramic Liquid Disco and enjoy world-class
performances in the futuristic Broadway-scale theatre.
ITINERARY
Fly to Barbados - Port of Spain (Trinidad & Tobago)
- Grenada - Dominica - Martinique - Guadeloupe
- St Maarten - Tortola (British Virgin Islands for Virgin
Gorda) - St Vincent - Antigua & Barbuda - St Kitts & Nevis -
Martinique - Guadeloupe - St Lucia - Barbados - Fly home
overnight. (Itinerary varies)
CONNOISSEUR'S CARIBBEAN
MSC Fantasia • 15 Nights • December 2017-March 2018 • Prices from £1599pp
All Inclusive Drinks Cruise#
WHAT'S INCLUDED:
✥ Direct return BA flights from Gatwick
to Barbados
✥ All transfers
✥ 14 nights' full-board cruise on board
MSC Poesia
✥ Port taxes, fees & airline tax
✥ FREE all-inclusive drinks package
St Lucia
Choose this wonderful island hopping cruise to become a connoisseur of the Caribbean visiting some of the more
exotic and lesser frequented islands. Spend the day on Grand Anse Beach amid the aromas of nutmeg and cinnamon
go river tubing on the Balthazar River in Grenada. Take the Sugar Cane Express on St Kitts and wander through the
leafy courtyard cafes and fine collection of West Indian gingerbread houses on St Maarten. Pop over the hill on Tortola
to the palm tree lined majestic sweep of Sugar Cane beach and visit the rum capital of the world on Martinique with
its colonial flair and yacht filled harbour at Fort De France. Perhaps wallow in the Baths at Virgin Gorda - the massive
volcanic boulders which form secluded pools and grottos, and tour La Soufriere Volcanic peak on Guadeloupe.
Virgin Gorda
MSC Fantasia
Date Inside Outside Balcony
05 Dec 17 £1599 £1779 £1919
19 Dec 17 £1979 £2129 £2269
02 Jan 18 £1689 £1829 £1969
16 Jan 18 £1649 £1789 £1919
30 Jan 18 £1689 £1829 £1969
13 Feb 18 £1689 £1829 £1969
27 Feb 18 £1649 £1789 £1919
13 Mar 18 £1679 £1869 £2039
27 Mar 18 £1859 £1999 £2119
# Terms, conditions and limitations apply.
CARNIVAL CONQUEST
Carnival Conquest elevates fun at sea to an art form - the
ship demonstrates a true mastery of the craft with an onboard
variety of fun spots for you to enjoy such as Guy's Burger Joint,
the Red-Frog Rum Bar and SKYBOX Sports Bar. Enjoy the steam
rooms and saunas of the Cloud 9 Spa, outdoor movies by the
pool at the Seaside Theatre, three separate swimming pools,
three hot-tubs and a waterslide. With delicious food, bars and
entertainment, Carnival Conquest has a scene for everybody.
FORT LAUDERDALE
Fort Lauderdale is known as the Venice of America with lots of
inland waterways, palatial mansions and a white sand beach
stretching as far as the eye can see. Enjoy the atmosphere
in the restaurants and bars along the palm tree lined beach
promenade and sample the Riverwalk evening dining and
entertainment area lining the canals and waterways. Visit La
Galleria Mall for top name brands or the boutique stores on Las
Olas Boulevard - the Rodeo Drive of Fort Lauderdale. For the
ultimate shopping experience check-out Sawgrass Mills - the
biggest factory outlet shopping mall in Florida. Close by too is
the Everglades for exhilarating airboat rides.
KEY WEST
Key West can be best described as Cape Cod meets the Caribbean
combining the best bits of both for its own unique blend of tropical
relaxation & enjoyment. A visit to Key West will easily surpass
those in other more popular parts of Florida in terms of nightlife,
shopping, dining and natural sights such as Sunset Plaza and the
bustling marina with its rustic wooden boardwalk and pier posts
topped by pelicans waiting for a lazy fish!
MIAMI SOUTH BEACH
THE place to stay in Miami is in the heart of the neon lit Art
Deco South Beach area. Ocean Drive is the main beach drag
where the tanned and toned rub shoulders with the diners,
drinkers, sunbathers and swimmers. This is party central with
everything contained in one area. For shopping centres visit
Biscayne Bay on the mainland, the Dolphin Mall near the airport
or the impressive Aventura Mall in North Miami Beach.
FLORIDA FUN & SUN TWIN CENTRE
Carnival Conquest • 13-15 Nights • March-December 2017 • Prices from £1389pp
WHAT'S INCLUDED:
✥ Direct return flights from London
✥ All transfers
✥ 5 or 6 nights' hire car including tax and
insurance (Itin' B & C only)
✥ 2 or 3 nights' 4-star hotel stay on Fort
Lauderdale Beach
✥ 6 nights' 3-star hotel stay on International
Drive - Orlando (Itin' C only)
✥ 4 nights' 4-star hotel stay in Key West (Itin' B only)
✥ 3 nights 4-star hotel stay in Miami South
Beach (Itin' A only)
✥ 5 or 8 nights' full-board cruise on board
Carnival Conquest
✥ Regional departures are available
at a supplement.
Key West
Take friends, family and the kids away to soak up the sunshine and enjoy the fun in two different hot-spots of Florida.
Fun and sunshine in Florida matches perfectly with a Carnival Conquest cruise bound for the Caribbean or Bahamas
where the urge to have a great time is irresistible. These holidays are ideal for novice cruisers who want to try out a
cruise, great for experienced cruisers who want to take advantage of the best of both worlds and perfect for landlubbers
in search of shopping, sightseeing and relaxation. Choose from three different twin centre combinations to suit
your party such as the thrill of the Orlando theme parks combined with a weekend of nightlife and shopping. Or perhaps
get the party started before your cruise on Ocean Drive and either continue with beach life in the Venice of America or
soak up the scenery and the Caribbean vibe of the Florida Keys.
Miami
Fort Lauderdale
ITINERARY A - SOUTH
3 nights' Miami South Beach hotel stay - 8 nights' cruise
from Fort Lauderdale -Grand Turk - La Romana (Dominican
Republic)- Curacao - Aruba - Fort Lauderdale- 3 nights Fort
Lauderdale Beach hotel stay.
ITINERARY A - EAST
3 nights' Miami South Beach hotel stay - 8 night cruise from
Fort Lauderdale - St Maarten - St Kitts - San Juan (Puerto
Rico) - Grand Turk - Fort Lauderdale - 3 nights Fort Lauderdale
Beach hotel stay.
ITINERARY B
3 nights' hotel stay on Fort Lauderdale Beach - 5 nights' cruise
from Fort Lauderdale - Nassau (Bahamas) - Half Moon Cay
(Bahamas) - Grand Turk- Fort Lauderdale - 4 nights Key West
hotel stay.
ITINERARY C
6 night's hotel stay in Orlando - 5 nights ' cruise from Fort
Lauderdale - Ocho Rios (Jamaica) - Grand Cayman - Fort
Lauderdale - 2 nights' Fort Lauderdale Beach hotel stay.
2017 Nights Itinerary Interior Oceanview Balcony
15 Mar 15 A South £1579 £1679 £1859
29 Mar 15 A East £1669 £1779 £1979
12 Apr 15 A South £1799 £1831 £2019
26 Apr 15 A South £1629 £1739 £1959
23 May 14 C £1649 £1719 £1819
31 May 13 B £1759 £1849 £1959
6 Jun 14 C £1549 £1629 £1739
14 Jun 13 B £1799 £1899 £1999
20 Jun 14 C £1569 £1639 £1749
26 Jul 13 B £2099 £2179 £2289
1 Aug 14 C £1799 £1869 £1969
23 Aug 13 B £1679 £1759 £1849
29 Aug 15 C £1389 £1469 £1579
11 Oct 15 A South £1479 £1579 £1799
25 Oct 15 A East £1529 £1619 £1789
22 Nov 15 A East £1489 £1569 £1749
20 Dec 15 A South £1989 £2129 £2359