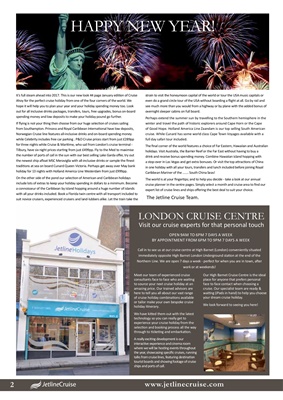 www.jetlinecruise.com Call now to book: 0800 082 2170
2 3
Our brochure presents to you a selection of the best offers
we have put together as a tour operator. You are protected
under our ATOL licence No: 6153 and Jetline Travel's Terms &
Conditions apply. A copy of our Booking Conditions will be sent
with your confirmation invoice.
In the unlikely event of our insolvency, the CAA will ensure that
you are not left stranded abroad and will arrange to refund any
money you have paid to us for an advance booking. For further
information, visit the ATOL website at www.atol.org.uk.
Open 7 days a week - 9am to 9pm
To book call: 0800 082 2170
Customer Services Number: 0203 617 5815
E&OE: Although every endeavour is made to avoid inaccuracies within this publication
Jetline Travel accepts no responsibility for any that may occur.
All prices and offers are correct at the time of going to press and are subject to
availability and the terms and conditions of the tour operators. Credit card charges
of 2.5% will be charged on all credit card payments (4% for American Express) and
0% for debit cards. Prices are per person based on 2 sharing. Prices are From. Prices
include Port Taxes fuel surcharges flights where necessary and pre cruise hotel stays
where necessary. Tips transfers (unless stated) drinks excursions and selected personal
activities on board are extra. ABTA J1693 agent for ATOL 6153.
CRUISE SALES OPENING HOURS YOUR FINANCIAL PROTECTION
CONTENTS
ALASKA 34 / 35 / 36 / 37
ALL INCLUSIVE DRINKS 5 / 6 / 7 / 12 / 13 / 19 / 20 /
30 / 32 / 43
AUSTRALIA & NEW ZEALAND 42 / 43 / 44
CANADA 4 / 5 / 26 / 34 / 35 / 37
CANARIES 6 / 9
CARIBBEAN 22 / 28 / 29 / 30 / 31 / 32
FAR EAST 38 / 39 / 40 / 42 / 43
HAWAII 33
LAS VEGAS 21 / 28 / 33
LOW DEPOSITS 6 / 8
MEDITERRANEAN 6 / 8/ 10 / 11 / 12 / 14 / 15 /
16 / 17 / 18 / 19 / 20
NO FLYING CRUISES 6 / 7 / 8 / 9 / 10 / 13 / 23
NORTHERN EUROPE 6 / 7 / 8 / 9 / 10 / 13
SAN FRANCISCO 21 / 33
SOLO TRAVELLER OFFERS 5
SOUTH AFRICA 42
SOUTH AMERICA 41
TRAIN TOUR & CRUISE 5 / 14 /22 / 23 / 34 / 35 / 36
/ 37 / 38
VENICE 11 / 14 / 15 / 18 / 20
Call in to see us at our cruise centre at High Barnet (London) conveniently situated
immediately opposite High Barnet London Underground station at the end of the
Northern Line. We are open 7 days a week - perfect for when you are in town, after
work or at weekends!
Meet our team of experienced cruise
consultants face to face who are waiting
to source your next cruise holiday at an
amazing price. Our trained advisors are
here to tell you all about our vast range
of cruise holiday combinations available
or tailor make your own bespoke cruise
holiday itinerary.
We have kitted them out with the latest
technology so you can really get to
experience your cruise holiday from the
selection and booking process all the way
through to ticketing and embarkation.
A really exciting development is our
interactive experience and cinema room
where we will be hosting events throughout
the year, showcasing specific cruises, running
talks from cruise lines, featuring destination
tourist boards and showing footage of cruise
ships and ports of call.
Our High Barnet Cruise Centre is the ideal
place for anyone that prefers personal
face to face contact when choosing a
cruise. Our specialist team are ready &
waiting (iPads in hand) to help you choose
your dream cruise holiday.
We look forward to seeing you here!
OPEN 9AM TO 6PM 7 DAYS A WEEK
BY APPOINTMENT FROM 6PM TO 9PM 7 DAYS A WEEK
LONDON CRUISE CENTRE
Visit our cruise experts for that personal touch
It's full steam ahead into 2017. This is our new look 44 page January edition of Cruise
Ahoy for the perfect cruise holiday from one of the four corners of the world. We
hope it will help you to plan your year and your holiday spending money too. Look
out for all inclusive drinks packages, transfers, tours, free upgrades, bonus on-board
spending money and low deposits to make your holiday pound go further.
If flying is not your thing then choose from our huge selection of cruises sailing
from Southampton. Princess and Royal Caribbean International have low deposits,
Norwegian Cruise line features all-inclusive drinks and on-board spending money
while Celebrity includes free car parking . P&O Cruise prices start from just £289pp
for three nights while Cruise & Maritime, who sail from London's cruise terminal -
Tilbury, have six night prices starting from just £499pp. Fly to the Med to maximise
the number of ports of call in the sun with our best selling Lake Garda offer, try out
the newest ship afloat MSC Meraviglia with all-inclusive drinks or sample the finest
traditions at sea on board Cunard Queen Victoria. Perhaps get away over May bank
holiday for 13 nights with Holland America Line Westerdam from just £999pp.
On the other side of the pond our selection of American and Caribbean holidays
include lots of extras to keep your holiday spending in dollars to a minimum. Become
a connoisseur of the Caribbean by island hopping around a huge number of islands
with all your drinks included. Book a Florida twin centre with all transport included to
suit novice cruisers, experienced cruisers and land-lubbers alike. Let the train take the
strain to visit the honeymoon capital of the world or tour the USA music capitals or
even do a grand circle tour of the USA without boarding a flight at all. Go by rail and
see much more than you would from a highway or by plane with the added bonus of
overnight sleeper cabins on full board.
Perhaps extend the summer sun by travelling to the Southern hemisphere in the
winter and travel the path of historic explorers around Cape Horn or the Cape
of Good Hope. Holland America Line Zaandam is our top selling South American
cruise. While Cunard has some world class Cape Town Voyages available with a
full day safari tour included.
The final corner of the world features a choice of Far Eastern, Hawaiian and Australian
holidays. Visit Australia, the Barrier Reef or the Far East without having to buy a
drink and receive bonus spending money. Combine Hawaiian island hopping with
a stop-over in Las Vegas and get extra bonuses. Or visit the top attractions of China
in one holiday with all your tours, transfers and lunch included before joining Royal
Caribbean Mariner of the ....... South China Seas!
The world is at your fingertips; and to help you decide - take a look at our annual
cruise planner in the centre pages. Simply select a month and cruise area to find our
expert list of cruise lines and ships offering the best deal to suit your choice.
The Jetline Cruise Team.
HAPPY NEW YEAR!