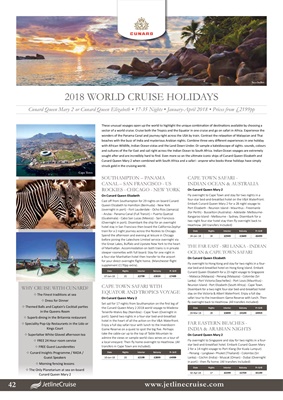 42
SOUTHAMPTON - PANAMA
CANAL - SAN FRANCISCO - US
ROCKIES - CHICAGO - NEW YORK
On Cunard Queen Elizabeth
Cast off from Southampton for 29 nights on board Cunard
Queen Elizabeth to Hamilton (Bermuda) - New York
(overnight in port) - Fort Lauderdale - Ocho Rios (Jamaica)
- Aruba - Panama Canal (Full Transit) - Puerto Quetzal
(Guatemala) - Cabo San Lucas (Mexico) - San Francisco
(Overnight in port). Disembark the ship for an overnight
hotel stay in San Francisco then board the California Zephyr
train for a 2 night journey across the Rockies to Chicago.
Spend the afternoon and evening at leisure in Chicago
before joining the Lakeshore Limited service overnight via
the Great Lakes, Buffalo and Upstate New York to the heart
of Manhattan. Accommodation on both trains is in private
sleeper roomettes with full board. Stay for one night in
a four-star Manhattan hotel then transfer to the airport
for your direct overnight flight home. (Manchester flight
supplement £170pp extra).
Date Nights Interior Balcony Pr Grill
07-Jan-18 35 £2799 £3559 £7499
CAPE TOWN SAFARI WITH
EQUATOR AND TROPICS VOYAGE
On Cunard Queen Mary 2
Set sail for 17 nights from Southampton on the first leg of
the Cunard Queen Mary 2 2018 world voyage to MadeiraTenerife-Walvis
Bay (Namibia) - Cape Town (Overnight in
port). Spend two nights in a four-star bed-and-breakfast
hotel in the heart of all the action on the V&A Waterfront.
Enjoy a full day safari tour with lunch to the Inverdoorn
Game Reserve on a quest to spot the big five. Perhaps
take the cable-car up to the top of Table Mountain to
admire the views or sample world class wines on a tour of
a local vineyard. Then fly home overnight to Heathrow. (All
transfers in Cape Town are included).
Date Nights Interior Balcony Pr Grill
10-Jan-18 20 £2199 £2899 £4999
2018 WORLD CRUISE HOLIDAYS
Cunard Queen Mary 2 or Cunard Queen Elizabeth • 17-35 Nights • January-April 2018 • Prices from £2199pp
WHY CRUISE WITH CUNARD?
✥ The Finest traditions at sea
✥ Dress for Dinner
✥ Themed Balls and Captain's Cocktail parties
in the Queens Room
✥ Superb dining in the Britannia restaurant
✥ Speciality Pop-Up Restaurants in the Lido or
Kings Court
✥ Superlative White Gloved afternoon tea
✥ FREE 24 Hour room service
✥ FREE Guest Launderettes
✥ Cunard Insights Programme / RADA /
Guest Speakers
✥ Morning fencing lessons
✥ The Only Planetarium at sea on-board
Cunard Queen Mary 2
Seychelles
These unusual voyages open up the world to highlight the unique combination of destinations available by choosing a
sector of a world cruise. Cruise both the Tropics and the Equator in one cruise and go on safari in Africa. Experience the
wonders of the Panama Canal and journey right across the USA by train. Contrast the relaxation of Malaysian and Thai
beaches with the buzz of India and mysterious Arabian nights. Combine three very different experiences in one holiday
with African Wildlife, Indian Ocean vistas and the Land Down Under. Or sample a kaleidoscope of sights. sounds, colours
and cultures of the Far East and sail right across the Indian Ocean to South Africa. Indian Ocean voyages are extremely
sought after and are incredibly hard to find. Even more so on the ultimate iconic ships of Cunard Queen Elizabeth and
Cunard Queen Mary 2 when combined with South Africa and a safari - anyone who books these holidays have simply
struck gold in the cruising world.
Cape Town
Enjoy a safari
CAPE TOWN SAFARI -
INDIAN OCEAN & AUSTRALIA
On Cunard Queen Mary 2
Fly overnight to Cape Town and stay for two nights in a
four-star bed-and-breakfast hotel on the V&A Waterfront.
Embark Cunard Queen Mary 2 for a 28 night voyage to
Port Elizabeth - Reunion Island - Mauritius - Freemanle
(for Perth) - Busselton (Australia) - Adelaide- Melbourne-
Kangaroo Island - Melbourne - Sydney. Disembark for a
two night four-star hotel stay then fly overnight back to
Heathrow. (All transfers Included)
Date Nights Interior Balcony Pr Grill
24-Jan- 18 34 £2949 £3649 £6499
THE FAR EAST - SRI LANKA - INDIAN
OCEAN & CAPE TOWN SAFARI
On Cunard Queen Elizabeth
Fly overnight to Hong Kong and stay for two nights in a fourstar
bed-and-breakfast hotel on Hong Kong Island. Embark
Cunard Queen Elizabeth for a 23 night voyage to Singapore
- Malacca (Malaysia) - Penang (Malaysia) - Colombo (Sri
Lanka) - Port Victoria (Seychelles) - Port Louis (Mauritius) -
Reunion Island - Port Elizabeth (South Africa) - Cape Town.
Disembark for a two night four-star bed-and-breakfast hotel
stay on the Victoria & Albert Waterfront. Enjoy a full day
safari tour to the Inverdoorn Game Reserve with lunch. Then
fly overnight back to Heathrow. (All transfers Included)
Date Nights Interior Balcony Pr Grill
28-Mar-18 28 £3899 £4149 £4959
FAR EASTERN BEACHES -
INDIA & ARABIAN NIGHTS
On Cunard Queen Mary 2
Fly overnight to Singapore and stay for two nights in a fourstar
bed-and-breakfast hotel. Embark Cunard Queen Mary
2 for a 14 night voyage to Port Klang (for Kuala Lumpur)
- Penang - Langkawi- Phuket (Thailand) - Colombo (Sri
Lanka) - Cochin (India) - Muscat (Oman) - Dubai (Overnight
in port) - then fly home. (All transfers Included)
Date Nights Interior Balcony Pr Grill
02-Apr-18 17 £2299 £2729 £5199
Phuket