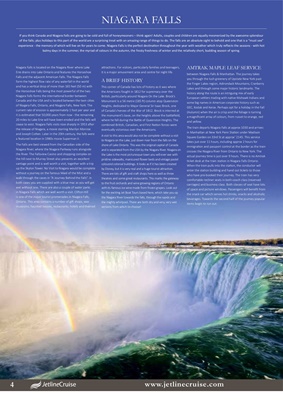 www.jetlinecruise.com Call now to book: 0800 082 2170
6 7
WESTERN MEDITERRANEAN
13-14 nights: Southampton - Gibraltar - Barcelona
- Villefranche (Nice) - Civitavecchia (Rome) - Valencia -
Malaga - Cadiz - Southampton
FRANCE & SPAIN
7-8 nights: Southampton - Le Havre (Paris) - Cherbourg -
Bilbao - Gijon - Southampton
NORWAY & DENMARK
8 nights: Southampton - Stavanger - Kristiansand - Oslo -
Copenhagen - Skagen - Southampton
NORTHERN EUROPEAN COAST
8 nights: Southampton - Zeebruge (Brussels) - Oslo -
Hamburg - Le Havre (Paris) - Southampton
SPAIN & CANARIES
12-14 nights: Southampton - Vigo - Lisbon - Lanzarote -
Las Palmas - Tenerife - Funchal - La Coruna - Southampton
2017 Itinerary Nights Interior Oceanview Balcony
01 May Western Med 14 £1099 £1639 £1789
15 May Spain & Canaries 12 £1339 £1489 £1639
27 May France & Spain 7 £799 £959 £1039
03 Jun Western Med** 14 £1489 £1789 £1939
17 Jun Spain & Canaries 12 £1489 £1789 £1939
29 Jun Norway &
Denmark
8 £1039 £1099 £1259
07 Jul Northern Coast 8 £1039 £1259 £1369
15 Jul Western Med** 14 £1639 £1859 £2039
29 Jul Western Med** 14 £1859 £2129 £2299
12 Aug France &
Spain**
8 £1099 £1259 £1339
20 Aug Western Med** 13 £1699 £1859 £2039
02 Sep Western Med** 14 £1339 £1699 £1859
16 Sep Spain &
Canaries**
14 £1339 £1699 £1939
30 Sep Western Med** 14 £1299 £1559 £1789
14 Oct France &
Spain**
7 £739 £889 £959
*Terms, conditions and limitations apply. Pricing includes discount.
Book before 6th March 2017. **Itinerary varies.
BUY ONE ALL INCLUSIVE CRUISE FARE, GET ONE HALF PRICE
Independence of the Seas® • 7-14 Nights • May-October 2017 • Prices from £739pp
PLUS £25pp deposits and 50% off kid's prices!
WHAT'S INCLUDED:
✥ 7-14 nights' full-board cruise onboard the
Independence of the Seas®
✥ Free All-Inclusive Deluxe Drinks Package
onboard ship*
✥ Drinks include premium spirits & cocktails!*
✥ Only £25 per person deposits!*
With multiple itineraries to choose from, plus a FREE All-Inclusive Deluxe Drinks Package and only £25 deposits per
person*, this is the perfect time to book your Mediterranean, Canaries or Northern Europe cruise for 2017. The
Independence of the Seas, an all time favourite for the Brits, is back in the UK and with prices that are too good to be true!
Hamburg
Stavanger
NORWEGIAN FJORDS
A fjord is formed when a glacier cuts a U-shaped valley
in the surrounding bedrock and most fjords are deeper
than the adjacent sea; Sognefjord reaches as much as
1,300metres (4,265 ft) below sea level. The west coast of
Norway is home to the Fjords and Bergen is the gateway to
Fjordland. Bergen was founded in 1070 and was originally a
Viking settlement - the best known historic site is Bryggen
which is a collection of 11th century wooden buildings
built along the harbour front. Geiranger Fjord is nine miles
long and is the most photographed of fjord of them all.
This fjord is surrounded by the steepest mountains on
the entire west coast, it is very narrow and has foaming
waterfalls (Seven Sisters and Suitor) which plunge into the
fjord from jagged peaks. Haugesund is the homeland of the
Viking Kings and offers the chance to experience some of
the most spectacular hiking trips in Norway such as Pulpit
Rock, the Folgefonna glacier or to the Langfoss waterfall.
REYKJAVÍK
The city centre is approximately forty five minutes by road
from the cruise terminal. Swim in open-air pools heated by
the very geothermal springs that inspired Reykjavik's name.
The Blue Lagoon geothermal spa is where minerals bubble
up from 5,000ft below the earth's surface. The charming
old quarter of Reykjavík has colourful wooden houses and
narrow streets. Visit the impressive volcanic craters of the
Heidmork conservation area, and enjoy a stop at The Pearl,
a remarkable and unique building, built in 1988.
HAMBURG
Hamburg is a surprising city with friendly locals who are
happy to speak English, a vibrant café culture, magnificent
buildings and excellent shopping. The nightlife is as
varied and diverse as any city and the restaurants are top
class too. The shopping is second to none with a huge
outdoor shopping plaza full of department stores and
famous brand shops. This leads you to the ornate golden
SUMMER ADVENTURES FROM SOUTHAMPTON
Norwegian Jade • 8-15 Nights • May-September 2017 • Prices from £799pp
All Inclusive Drinks
WHAT'S INCLUDED:
✥ 8, 10, 14 or 15 nights' full-board cruise on
Norwegian Jade
✥ FREE All -Inclusive Drinks Package on-board
✥ Facilities and entertainment on-board ship
✥ Bonus upto $250 per stateroom onboard
spending money (on selected departures & grades)
✥ Regional flight connections to and from
Southampton are available at a supplement
Geiranger Fjord
Set sail for the magical scenery of the Norwegian Fjords next summer on a freestyle cruise with all your drinks included
on-board ship. This is one of the most spectacular regions of the world with a unique mix of culture and jaw dropping
scenery of sheer magnitude. Many would argue that the only way to truly appreciate the dramatic scenery of the
Norwegian Fjords is to sail through them. Norwegian Fjord cruises allow you to truly appreciate the scale of ice carved
inlets with their spectacular waterfalls. Perhaps choose one of the longer cruises to visit the thermal springs, geysers and
glaciers of Iceland. Or opt to visit the most affluent city in Germany- Hamburg together with other Northern European
cities such as Oslo and Copenhagen for spectacular architecture, lots of history and great shopping.
Hamburg
Iceland
spires of the magnificent Town Hall and on to a vast four
storey indoor shopping mall. Perhaps visit Miniature
Wunderland for the largest model railway in the world,
the Fish Market or the Hamburg Dungeon. The supremely
fascinating U-Boat Museum is part of Hamburg's rich
Maritime heritage; while theatres, opera houses and
boating on the Alster add to a long list of things to do.
You can even visit the beach themed area of The Strand
on the banks of the river which hosts a floating boardwalk
of bars and restaurants.
FJORDS - 8 NIGHTS
Southampton - Stavanger - Skjolden - Alesund - Hellesylt -
Geiranger Fjord - Bergen - Southampton
FJORDS - 10 NIGHTS
Southampton - Stavanger - Hellesylt - Geiranger Fjord -
Flam - Alesund - Haugesund- Oslo - Southampton
FJORDS & ICELAND - 15 NIGHTS
Southampton - Bergen - Alesund - Lerwick (Shetland isles)
- Reykjavik (Iceland - overnight in port) - Akureyri (Iceland) -
Kirkwall - Invergordon - Newhaven (for Edinburgh) - Newcastle
- Southampton. (14 night itinerary excludes Newcastle)
NORTHERN EUROPE CITIES
- 8 NIGHTS
Southampton- Rotterdam- Oslo - Copenhagen- Hamburg
- Southampton
2017 Nights Itinerary Interior Oceanview Balcony
14 May 8 Fjords £899 £1196 £1349
09 Aug 10 Fjords £1189 £1339 £1699
19 Aug 15 Fjords & Ice £1689 £1759 £2269
03 Sep 8 N.Europe Cities £799 £989 £1349
11 Sep 14 Fjords & Ice £1549 £1619 £2249
Lanzarote
FlowRider
Independence of the Seas®
INDEPENDENCE OF THE SEAS®
This magnificent ship has every imaginable onboard
facility to ensure your holiday is truly out of this world.
Independence of the Seas has been renewed to give it the
very best features of Royal Caribbean ships, and now offers
even more WOW moments on your cruise holiday.
If you've ever fancied surfing, now's your chance with the
amazing FlowRider. Prefer to take it easy? Soak up the rays
and the view in our above-the-sea whirlpools. With the
incredible H2O Zone water park, the Royal Promenade with
its enticing shops, cafes, and Cupcake Cupboard, you might
not want to leave!