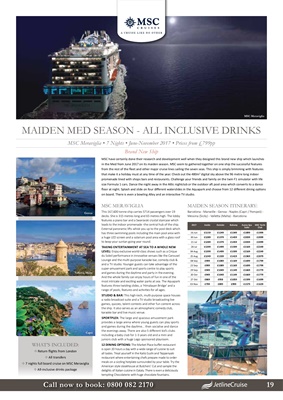 www.jetlinecruise.com Call now to book: 0800 082 2170
36 37
ITINERARY:
Fly from London Heathrow to Seattle - One night's hotel
stay - Embark ship in Seattle - Juneau - Skagway - Glacier
Bay National Park (scenic cruising) - Ketchikan - Victoria
- Seattle. Disembark ship - Two nights' rail journey to
Chicago - Two nights' hotel stay in Chicago - Fly overnight
from Chicago to London Heathrow.
EMPIRE BUILDER RAIL JOURNEY
Onboard, you will experience the comfort and relaxation
of train travel while witnessing some of the most stunning
scenery in the world. From the beautiful Cascade Mountains
to the spectacular Columbia River Gorge, there is something
for everyone to see. Glacier National Park, Big Sky country, the
plains of North Dakota, the Twin Cities of Minneapolis and St.
Paul and the sights and sounds of Chicago are along the way.
These sights and more are what make the Empire Builder®
one of the most majestic routes in the Amtrak system.
U.S. ROCKIES RAIL JOURNEY & ALASKAN CRUISE
Ruby Princess • 13 Nights • May-September 2017 • Prices from £1699pp
WHAT'S INCLUDED:
✥ Return flights from London Heathrow
✥ One night's 3-star hotel stay in Seattle
✥ Seven nights' full-board cruise onboard the
Ruby Princess
✥ Two nights' full-board rail journey from Seattle
to Chicago in a Private Sleeper Roomette
✥ Two nights' 4-star hotel stay in Chicago
✥ All taxes and port fees
Alaska
Discover the wonders of Alaska before clattering over the U.S. Rockies by rail and into the heart of Chicago on this
adventure of a life-time. Contrast Icy Glaciers with mountain Vistas, stunning wildlife with incredible museums and the
home of Starbucks® Coffee with the home of the Pizza Pie. Wonder in awe at the Space Needle as it lights up the Seattle
sky line at night, explore the floating town of Ketchikan and marvel at fascinating works of art, contemporary and old,
at The Art Institute of Chicago.
Alaska
Amtrak Empire Builder
Date Interior Balcony Mini-Suite
05 May 2017 £1849 £2299 Sold out
12 May 2017 £1899 £2329 £2479
19 May 2017 £1699 £2229 £2399
02 Jun 2017 £2089 £2599 £2779
09 Jun 2017 £2069 £2629 £2779
16 Jun 2017 £2199 £2739 £2929
07 Jul 2017 £2199 £2729 £2899
04 Aug 2017 £2159 £2669 £2829
25 Aug 2017 £1949 £2399 £2579
01 Sep 2017 £1949 £2399 £2569
08 Sep 2017 £1899 £2399 £2549
15 Sep 2017 £1949 £2449 £2629
22 Sep 2017 £1849 £2299 £2449
ALASKA,
ROCKY MOUNTAINEER
& THE CALGARY
STAMPEDE
Celebrity Infinity • 17 Nights • 24 June 2017 • Prices from £4099pp
Rocky Mountaineer
This incredible North American adventure combines three unique holiday experiences in
one, with a luxury Alaskan cruise onboard Celebrity Infinity followed by an unforgettable
rail journey from Vancouver to Jasper through the heart of the Canadian Rockies onboard
Canada's award-winning Rocky Mountaineer. Enjoy two days of sightseeing land-tours
from Jasper to Lake Louise and Lake Louise to Calgary where your holiday concludes with a
three-night stay for "The Greatest Outdoor show on Earth", the Calgary Stampede.
Lake Louise
The Calgary Stampede
WHAT'S INCLUDED:
✥ Return flights from London Heathrow
✥ Transfers*
✥ 7- nights' full-board cruise accommodation onboard Celebrity Infinity
✥ 3- nights' four-star room-only accommodation in Vancouver
✥ Two day all-daylight rail journey in SilverLeaf Service onboard
Rocky Mountaineer from Vancouver to Jasper which includes breakfast &
lunch; complimentary alcoholic and non-alcoholic beverages and snacks
✥ 1 night's SilverLeaf accommodation in Kamloops
✥ 1 night's SilverLeaf accommodation in Jasper
✥ Full day sightseeing tour including ice explorer from Jasper to Lake Louise
✥ 1 night's accommodation at the Fairmont Chateau Lake Louise including
Dinner & Breakfast
✥ Full day sightseeing tour from Lake Louise to Calgary
✥ 3- nights' room-only accommodation at the
four-star Hotel Arts, Calgary (or similar)
✥ Two day admission to stampede park
✥ Transfers from hotel to Stampede Park
✥ One Main Level afternoon Rodeo ticket
✥ One balcony evening show ticket
✥ Souvenir programme for both events
✥ Sky-ride over Stampede Park
✥ Souvenir golf shirt and tote bag
ITINERARY:
Day 1 - Fly UK to Vancouver: Fly from
London to Vancouver. Transfer provided
from the airport to a 4-star Hotel,
Vancouver. Afternoon/Evening at leisure.
Day 2 - Vancouver: Morning at leisure to
explore Vancouver. Transfer independently to
Vancouver Cruise Terminal to join Celebrity
Infinity for your 7-night Alaskan Cruise.
Day 3 - Cruise the Inside Passage
Day 4 - Icy Straight Point, Alaska
Day 5 - Hubbard Glacier, Alaska
Day 6 - Juneau, Alaska
Day 7 - Ketchikan, Alaska
Day 8 - Cruise the Inside passage
Day 9 - Vancouver: Disembark the ship
and transfer independently to the 4-star
Pinnacle Hotel, Vancouver. Enjoy a day and
evening at leisure.
Day 10 - Vancouver: Perhaps take
advantage of your included admission
to the Vancouver Lookout and take a 40
second glass elevator ride to the panoramic
observation deck and enjoy a 360º aerial
view of Vancouver.
Day 11 - Vancouver to Kamloops: Transfer
provided from your hotel to join
Rocky Mountaineer from Vancouver to
Kamloops. Highlights include the rushing
waters of Hell's Gate in the Fraser Canyon
and the steep slopes and rock sheds along
the Thompson River. Transfer provided to
Kamloops Hotel. B, L
Day 12 - Kamloops to Jasper: Today you
will follow the route of the Fraser River,
home of British Columbia's largest salmon
fishing run, pass by the Albreda Glacier and
magnificent Pyramid Falls, and hopefully
see wildlife on the way. The highlight of
this route is majestic Mount Robson, the
highest peak in the Canadian Rockies.
Transfer provided to Jasper Hotel. B, L
Day 13 - Full Day Sightseeing Jasper to
Lake Louise: Enjoy a full-day sightseeing
tour along the Icefields Parkway, one of the
world's most scenic highways. The highlight
today is a visit to the Columbia Icefield
and an Ice Explorer ride on the Athabasca
Glacier. At the Columbia Icefield Centre
you have free time for lunch (not included)
before continuing south to Lake Louise.
Overnight Lake Louise. D
Day 14 - Full Day Sightseeing Lake Louise
to Calgary: Experience the many scenic
highlights surrounding Lake Louise,
including stops at the Yoho National
Parks. Photograph the vivid blue waters of
Moraine Lake and Valley of the Ten Peaks.
Ascend Kicking Horse Pass, and descend
into the beautiful Yoho Valley. Gaze up at
Takakkaw Falls, the highest waterfall in the
Canadian Rockies. Learn about the Spiral
Tunnels that wind through the mountains,
and soak up some serenity at Emerald
Lake. Later proceed to the vibrant city of
Calgary. B
Day 15 - Calgary Stampede: Professional
cowboys compete in a myriad of rodeo
events, which includes bull riding, roping,
chuckwagon racing, steer wrestling and
barrel racing. So don your denim, grab your
Stetson, saddle up and enjoy Stampede
breakfasts galore, square dancing, parades,
the fun of the midway, amazing exhibits,
a spectacular Grandstand show, fireworks
and of course, huge helpings of Canadian
hospitality!
Day 16 - Calgary Stampede: Enjoy a second
thrilling day at the Calgary Stampede.
Day 17 - Fly Calgary to UK: Transfer to
Calgary airport for your overnight flight
back to the UK.
Date Nights Interior Oceanview Balcony
24 Jun 2017 17 £4099 £4299 £4649
The Calgary Stampede evening show
Alaska
Chicago