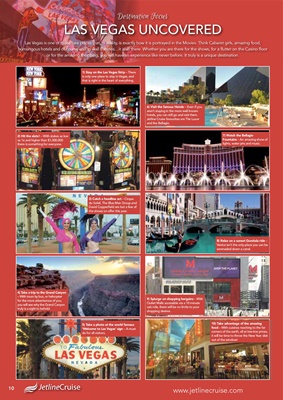 10
1) Stay on the Las Vegas Strip - There
is only one place to stay in Vegas, and
that is right in the heart of everything.
2) Hit the slots! - With stakes as low
as 1¢ and higher than $1,000,000
there is something for everyone.
3) Catch a headline act - Cirque
du Soleil, The Blue Man Group and
David Copperfield are but a few of
the shows on offer this year.
4) Take a trip to the Grand Canyon
- With tours by bus, or helicopter
for the more adventurous of you,
you will see why the Grand Canyon
truly is a sight to behold.
6) Visit the famous Hotels - Even if you
aren't staying in the more well known
hotels, you can still go and visit them.
Jetline Cruise favourites are The Luxor
and the Bellagio.
5) Take a photo at the world famous
'Welcome to Las Vegas' sign - A must
do for all visitors.
7) Watch the Bellagio
Fountains - An amazing show of
lights, water jets and music.
8) Relax on a sunset Gondola ride -
Venice isn't the only place you can be
serenaded down a canal.
9) Splurge on shopping bargains - With
Outlet Malls accessible via a 10 minute
cab ride, there will be no limits to your
shopping desires.
10) Take advantage of the amazing
food - With cuisines reaching to the far
corners of the earth, all at low-low prices,
it will be time to throw the New Year diet
out of the window!
Destination Focus
LAS VEGAS UNCOVERED
Las Vegas is one of those rare places that, in reality, is exactly how it is portrayed in the Movies. Think Cabaret girls, amazing food,
humungous hotels and of course wall to wall Casinos…it is all there. Whether you are there for the shows, for a flutter on the Casino floor
or for the amazing shopping, you will have an experience like never before. It truly is a unique destination.
Pictures courtesy of Las Vegas Tourist Board and Thinkstock