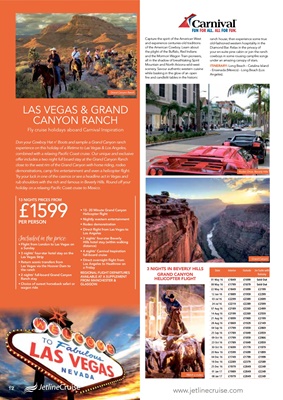 12 LAS VEGAS & GRAND
CANYON RANCH
Fly cruise holidays aboard Carnival Inspiration
Don your Cowboy Hat n' Boots and sample a Grand Canyon ranch
experience on this holiday of a lifetime to Las Vegas & Los Angeles,
combined with a relaxing Pacific Coast cruise. Our unique and exclusive
offer includes a two night full board stay at the Grand Canyon Ranch
close to the west rim of the Grand Canyon with horse riding, rodeo
demonstrations, camp fire entertainment and even a helicopter flight.
Try your luck in one of the casinos or see a headline act in Vegas and
rub shoulders with the rich and famous in Beverly Hills. Round off your
holiday on a relaxing Pacific Coast cruise to Mexico.
Included in the price:
• Flight from London to Las Vegas on
a Sunday
• 3 nights' four-star hotel stay on the
Las Vegas Strip
• Return scenic transfers from
Las Vegas via the Hoover Dam to
the ranch
• 2 nights' full-board Grand Canyon
Ranch stay
• Choice of sunset horseback safari or
wagon ride
13 NIGHTS PRICES FROM
£1599PER PERSON
Capture the spirit of the American West
and experience centuries-old traditions
of the American Cowboy. Learn about
the plight of the Buffalo, Red Indians
and the Mormon Wagon Train pioneers,
all in the shadow of breathtaking Spirit
Mountain and North Arizona wild-west
scenery. Savour authentic western cuisine
while basking in the glow of an open
fire and candlelit tables in the historic
ranch house; then experience some true
old-fashioned western hospitality in the
Diamond Bar. Relax in the privacy of
your en-suite pine cabin or join the ranch
cowboys in some rousing campfire songs
under an amazing canopy of stars.
ITINERARY: Long Beach - Catalina Island
- Ensenada (Mexico) - Long Beach (Los
Angeles).
Grand Canyon Ranch
Rodeo Drive, Beverly Hills
• 15- 20 Minute Grand Canyon
Helicopter flight
• Nightly western entertainment
• Rodeo demonstration
• Direct flight from Las Vegas to
Los Angeles
• 3 nights' four-star Beverly
Hills hotel stay (within walking
distance)
• 4 nights' Carnival Inspiration
full-board cruise
• Direct overnight flight from
Los Angeles to Heathrow on
a Friday
REGIONAL FLIGHT DEPARTURES
AVAILABLE AT A SUPPLEMENT
FROM MANCHESTER &
GLASGOW.
Date Interior Outside Jnr Suite with
Balcony
01 May 16 £1849 £1899 Sold Out
08 May 16 £1799 £1879 Sold Out
22 May 16 £1849 £1899 £2199
12 Jun 16 £1889 £1959 £2299
03 Jul 16 £2299 £2389 £2699
24 Jul 16 £2219 £2289 £2599
07 Aug 16 £2189 £2269 £2499
14 Aug 16 £2199 £2269 £2559
21 Aug 16 £1899 £1969 £2199
28 Aug 16 £1869 £1929 £2149
04 Sep 16 £1799 £1859 £2069
25 Sep 16 £1789 £1849 £2059
09 Oct 16 £1799 £1859 £2066
23 Oct 16 £1789 £1849 £2059
30 Oct 16 £1699 £1779 £1979
20 Nov 16 £1599 £1699 £1899
04 Dec 16 £1749 £1799 £1999
18 Dec 16 £2289 £2379 £2589
25 Dec 16 £1979 £2049 £2249
01 Jan 17 £1989 £2049 £2249
08 Jan 17 £1979 £2049 £2249
3 NIGHTS IN BEVERLY HILLS
GRAND CANYON
HELICOPTER FLIGHT
Grand Canyon
Watch a rodeo