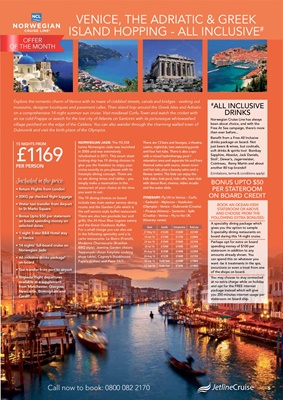 5
Call now to book: 0800 082 2170
VENICE, THE ADRIATIC & GREEK
ISLAND HOPPING - ALL INCLUSIVE#
Explore the romantic charm of Venice with its maze of cobbled streets, canals and bridges - seeking out
museums, designer boutiques and pavement cafes. Then island hop around the Greek Isles and Adriatic
on a comprehensive 14 night summer sun cruise. Visit medieval Corfu Town and watch the cricket with
an ice cold Frappe or search for the lost city of Atlantis on Santorini with its picturesque whitewashed
village perched on the edge of the Caldera. You can also wander through the charming walled town of
Dubrovnik and visit the birth place of the Olympics.
Included in the price:
• Return Flights from London
• 20KG pp checked flight luggage
• Water taxi transfer from Airport
to St Marks Square
• Bonus Upto $50 per stateroom
on board spending money on
selected dates.
• 1 night 3-star B&B Hotel stay
in Venice
• 14 nights' full-board cruise on
Norwegian Jade
• All-inclusive drinks package#
on-board
• Taxi transfer from port to airport
• Regional flight departures
available at a supplement
from Manchester, Glasgow,
Newcastle, Birmingham and
Cardiff.
15 NIGHTS FROM
£1169PER PERSON
NORWEGIAN JADE: The 93,558
tonne Norwegian Jade was launched
in 2006 and was extensively
refurbished in 2011. This smart sleek
looking ship has 19 dining choices to
give you the freedom to enjoy your
cruise exactly as you please with its
freestyle dining concept. There are
no set dining times and tables - you
simply make a reservation in the
restaurant of your choice at the time
you want to eat.
The 19 dining choices on board
include two main waiter service dining
rooms and the Garden Cafe which is
the self service style buffet restaurant.
There are also two poolside bar and
grills; the 24 Hour Blue Lagoon eatery
and the Great Outdoors Buffet.
For a small charge you can also eat
in the following speciality and a la
carte restaurants: Le Bistro (French),
Moderno Churrascaria (Brazilian
BBQ style), Jasmine Garden (Asian),
Teppenyaki (Asian hotplate cooking
show table), Cagney's Steakhouse,
Papa's (Italian) and Pizza 24/7.
#ALL INCLUSIVE
DRINKS
Norwegian Cruise Line has always
been about choice, and with the
Free At Sea campaign, there's more
than ever before...
Benefit from a Free All Inclusive
drinks package on board. Not
just beers & wines, but cocktails,
soft drinks & spirits too! Bombay
Sapphire, Absolut, Jack Daniels,
Stoli', Dewar's, Jagermeister,
Cointreau, Remy Martin and about
another 80 top brands!!
(Limitations, terms & conditions apply)
Date Inside Oceanview Balcony
27 May 16 £1249 £1849 £2149
10 Jun 16 £1169 £1759 £2049
24 Jun 16 £1249 £1849 £2149
29 Jul 16 £1399 £1999 £2299
05 Aug 16 £1399 £1999 £2299
26 Aug 16 £1229 £1849 £2159
16 Sep 16 Sold Out £1699 £1999
23 Sep 16 Sold Out £1699 £1999
There are 13 bars and lounges, a theatre,
casino, nightclub, two swimming pools
and four hot tubs. There is also a spa
with a mixed hydrotherapy pool /
relaxation area and separate his and hers
thermal suites with sauna, steam room
and hot tub; plus a beauty salon and a
fitness centre. The kids can enjoy the
kids clubs, kids pool, kids cafe, teen club
with dance floor, cinema, video arcade
and the water slide.
ITINERARY: Fly UK to Venice - Corfu
- Santorini - Mykonos - Katakolon
(Olympia) - Venice - Dubrovnik (Croatia)
- Piraeus (Athens) - Santorini - Split
(Croatia) - Venice - Fly to the UK.
(Itinerary varies).
BONUS UPTO $50
PER STATEROOM
ON BOARD CREDIT 5
Call now to book: 0800 082 2170
OFFER
OF THE MONTH
BOOK AN OCEAN-VIEW
STATEROOM OR ABOVE
AND CHOOSE FROM THE
FOLLOWING EXTRA BONUSES:
A speciality dining package which
gives you the option to sample
5 speciality dining restaurants on
board during this 14 night cruise.
Perhaps opt for extra on board
spending money of $100 per
stateroom in addition to any
amounts already shown. You
can spend this on whatever you
want -be it treatments in the spa,
excursions or even a treat from one
of the shops on board.
You may choose to stay connected
at no extra charge while on holiday
and opt for the FREE internet
package instead which will give
you 250 minutes internet usage per
stateroom on board ship.