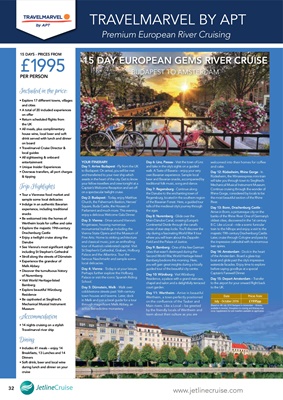 32
TRAVELMARVEL BY APT
Premium European River Cruising
15 DAY EUROPEAN GEMS RIVER CRUISE
BUDAPEST TO AMSTERDAM
Included in the price:
• Explore 17 different towns, villages
and cities
• A total of 20 included experiences
on offer
• Return scheduled flights from
the UK
• All meals, plus complimentary
house wine, local beer and soft
drink served with lunch and dinner
on board
• Travelmarvel Cruise Director &
local guides
• All sightseeing & onboard
entertainment
• Unique Insider Experiences
• Overseas transfers, all port charges
& tipping
Trip Highlights
• Tour a Viennese food market and
sample some local delicacies
• Indulge in an authentic Bavarian
experience, including traditional
snacks
• Be welcomed into the homes of
Wertheim locals for coffee and cake
• Explore the majestic 19th-century
Drachenburg Castle
• Enjoy a twilight cruise along the
Danube
• See Vienna's most significant sights
including St Stephen's Cathedral
• Stroll along the streets of Dürnstein
• Experience the grandeur of
Melk Abbey
• Discover the tumultuous history
of Nuremberg
• Visit World Heritage-listed
Bamberg
• Explore beautiful Würzburg
Residence
• Be captivated at Siegfried's
Mechanical Musical Instrument
Museum
Accommodation
• 14 nights cruising on a stylish
Travelmarvel river ship
Dining
• Includes 41 meals - enjoy 14
Breakfasts, 13 Lunches and 14
Dinners
• Soft drink, beer and local wine
during lunch and dinner on your
cruise
15 DAYS - PRICES FROM
£1995PER PERSON
YOUR ITINERARY:
Day 1: Arrive Budapest - Fly from the UK
to Budapest. On arrival, you will be met
and transferred to your river ship which
awaits in the heart of the city. Get to know
your fellow travellers and crew tonight at a
Captain's Welcome Reception and set off
on a spectacular twilight cruise.
Day 2: Budapest - Today, enjoy Matthias
Church, the Fisherman's Bastion, Heroes'
Square, Buda Castle, the Houses of
Parliament and much more. This evening,
enjoy a delicious Welcome Gala Dinner.
Day 3: Vienna - Drive around Vienna's
Ringstrasse, housing numerous
monumental buildings including the
Vienna State Opera and the Museum of
Fine Arts. Home to striking architecture
and classical music; join an enthralling
tour of Austria's celebrated capital. Visit
St Stephen's Cathedral, Graben, Hofburg
Palace and the Albertina. Tour the
famous Naschmarkt and sample some
local delicacies.
Day 4: Vienna - Today is at your leisure.
Perhaps further explore the Hofburg
Palace or visit the iconic Spanish Riding
School.
Day 5: Dürnstein, Melk - Walk over
cobblestone streets past 16th-century
town houses and taverns. Later, dock
in Melk and join a local guide for a tour
through magnificent Melk Abbey, an
active Benedictine monastery.
Day 6: Linz, Passau - Visit the town of Linz
and take in the city's sights on a guided
walk. A Taste of Bavaria - enjoy your very
own Bavarian experience. Sample local
beer and Bavarian snacks, accompanied by
traditional folk music, song and dance.
Day 7: Regensburg - Continue along
the Danube to the enchanting town of
Regensburg, located in the southern region
of the Bavarian Forest. Here, a guided tour
tells of the medieval city's journey through
the ages.
Day 8: Nuremberg - Glide over the
Main-Danube Canal, crossing Europe's
Continental Divide through the canal's
series of stair-step locks. You'll discover the
city during a fascinating World War II tour
where you will learn about the Zeppelin
Field and the Palace of Justice.
Day 9: Bamberg - One of the few German
cities that wasn't destroyed during the
Second World War, World Heritage-listed
Bamberg beckons this morning. Here,
you will gain great insights during a locally
guided tour of the beautiful city centre.
Day 10: Würzburg - Visit Würzburg
Residence, a palace with a grand staircase,
chapel and salon and a delightfully terraced
court garden.
Day 11: Wertheim - Arrive in beautiful
Wertheim, a town perfectly positioned
on the confluence of the Tauber and
Main rivers. Like a Local - be greeted
by the friendly locals of Wertheim and
learn about their culture as you are
welcomed into their homes for coffee
and cake.
Day 12: Rüdesheim, Rhine Gorge - In
Rüdesheim, the Winzerexpress mini-train
will take you through town to Siegfried's
Mechanical Musical Instrument Museum.
Continue cruising through the wonder of
Rhine Gorge, considered by locals to be
the most beautiful section of the Rhine
River.
Day 13: Bonn, Drachenburg Castle -
Arrive in Bonn, a picturesque city on the
banks of the Rhine River. One of Germany's
oldest cities, discovered in the 1st century
B.C. Like a Local - ride a scenic funicular
train to the hilltops and enjoy a visit to the
majestic 19th century Drachenburg Castle.
Later, cruise through Cologne and pass by
the impressive cathedral with its enormous
twin spires.
Day 14: Amsterdam - Dock in the heart
of the Amsterdam. Board a glass-top
boat and glide past the city's impressive
waterside facades. Enjoy time to explore
before saying goodbye at a special
Captain's Farewell Dinner.
Day 15: Depart Amsterdam - Transfer
to the airport for your onward flight back
to the UK.
Date Prices from
July - October 2016 £1995pp
(Based on 4th July 2016 Budapest to Amsterdam - itinerary
available in reverse). Disruptions to cruising and itinerary may
occur. Supplements for solo travellers available on application.