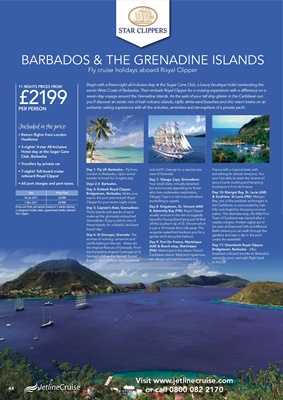 BARBADOS & THE GRENADINE ISLANDS
Fly cruise holidays aboard Royal Clipper
Begin with a three-night all-inclusive stay at the Sugar Cane Club, a luxury boutique hotel overlooking the
exotic West Coast of Barbados. Then embark Royal Clipper for a cruising experience with a difference on a
seven-day voyage around the Grenadine Islands. As the sails of your tall ship glisten in the Caribbean sun
you'll discover an exotic mix of lush volcanic islands, idyllic white-sand beaches and chic resort towns on an
authentic sailing experience with all the activities, amenities and atmosphere of a private yacht.
Included in the price:
• Return flights from London
Heathrow
• 3-nights' 4-star All-Inclusive
Hotel stay at the Sugar Cane
Club, Barbados
• Transfers by private car
• 7-nights' full-board cruise
onboard Royal Clipper
• All port charges and port taxes.
11 NIGHTS PRICES FROM
£2199PER PERSON
Day 1: Fly UK Barbados - Fly from
London to Barbados. Upon arrival
transfer to hotel for 3 nights stay.
Days 2-3: Barbados.
Day 4: Embark Royal Clipper,
Bridgetown, Barbados. Make your
way to the port and embark Royal
Clipper for your seven-night cruise.
Day 5: Captain's Best, Grenadines:
Thirty islands and specks of sand
make up the gloriously untouched
Grenadines. Enjoy a visit to one of
these Islands, for a blissful, laid-back
beach day.
Day 6: St Georges, Grenada: The
aromas of nutmeg, cinnamon and
vanilla baking in the sun - these are
the tropical flavours of Grenada. From
the horseshoe shaped Carenage at St.
George's, follow the Sendall Tunnel
(hand-built in 1895) to the Esplanade
and old Ft. George for a spectacular
view of Grenada.
Day 7: Tobago Cays, Grenadines:
Four small islets, virtually deserted
but enormously appealing for those
who love underwater exploration,
Tobago Cays is a national park where
snorkelling is superb.
Day 8: Kingstown, St. Vincent (AM)
& Admiralty Bay (PM): Royal Clipper
usually anchors in the lee of ruggedly
beautiful Young Island lying just 54 feet
off the southern tip of St. Vincent which
is just a 10 minute ferry ride away. The
exquisite waterfront beckons you for a
gentle stroll along the harbour.
Day 9: Fort De France, Martinique
(AM) & Beach stop, Martinique
(PM): Martinique is the classic French
Caribbean Island. Wild and mysterious,
yet urbane and sophisticated, it is
France with a tropical twist, with
something for almost everyone. You
won't be able to resist the charms of
spicy Creole cooking and tempting
boutiques in Fort de France.
Day 10: Marigot Bay, St. Lucia (AM)
& Soufriere, St Lucia (PM): Marigot
Bay, one of the prettiest anchorages in
the Caribbean, is surrounded by lush
hills and ringed by drooping coconut
palms. The alternate stop, the little Port
Town of Soufriere was named after a
nearby volcano. Prettier sights are to
be seen at Diamond Falls and Mineral
Baths where you can walk through the
gardens and take a dip in the pool
under the waterfalls.
Day 11: Disembark Royal Clipper,
Bridgetown, Barbados - After
breakfast onboard transfer to Barbados
airport for your overnight flight back
to the UK.
Date Prices from
18 Jan 2017 £2199
1 Mar 2017 £2199
Prices are from, per person based on 2 adults sharing
a category 6 inside cabin, upper/lower berths onboard
Star Clipper.
Visit www.jetlinecruise.com
or call 0800 082 2170
44