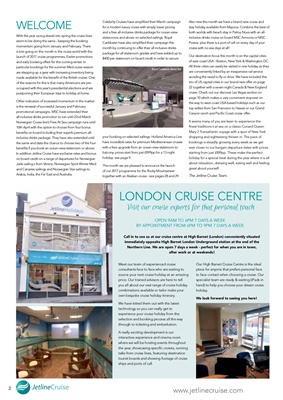 2 WELCOME
With the year racing ahead into spring the cruise lines
seem to be doing the same - keeping the booking
momentum going from January and February. There
is lots going on this month in the cruise world with the
launch of 2017 cruise programmes, Easter promotions
and early booking offers for this coming winter. In
particular bookings for the summer Med cruise season
are stepping up a gear with increasing inventory being
made available for the benefit of the British cruiser. One
of the reasons for this is that many Americans are preoccupied with this year's
presidential elections and are
postponing their European trips to holiday at home.
Other indicators of increased momentum in the market
is the renewal of successful January and February
promotional campaigns. MSC have extended their
all inclusive drinks promotion to run until 22nd March.
Norwegian Cruise line's Free At Sea campaign runs until
10th April with the option to choose from four bonus
benefits on board including their superb premium allinclusive drinks package. They have also extended until
the same end date the chance to choose two of the four
benefits if you book an ocean-view stateroom or above.
In addition Jetline Cruise have exclusive rates and bonus
on board credit on a range of departures for Norwegian
Jade sailing s from Venice, Norwegian Spirit Winter Med
and Canaries sailings and Norwegian Star sailings to
Arabia, India, the Far East and Australia.
Celebrity Cruises have simplified their March campaign
for a modern luxury cruise with simply lower pricing
and a free all-inclusive drinks package for ocean-view
staterooms and above on selected sailings. Royal
Caribbean have also simplified their campaign this
month by continuing to offer their all inclusive drinks
package for all stateroom grades and have added up to
$400 per stateroom on board credit in order to secure
your booking on selected sailings. Holland America Line
have incredible rates for premium Mediterranean cruises
with a free upgrade from an ocean-view stateroom to
balcony; prices start from just £899pp for a 13 night
holiday- see page 9.
This month we are pleased to announce the launch
of our 2017 programme for the Rocky Mountaineer
together with an Alaskan cruise - see pages 28 and 29.
Also new this month we have a brand new cruise and
stay holiday available from Majorca. Combine the best of
both worlds with beach stay in Palma Nova with an allinclusive drinks cruise on board
MSC Armonia or MSC
Poesia- plus there is a port of call on every day of your
cruise with no sea days at all!
Our destination focus this month is on the capital cities
of east coast USA - Boston, New York & Washington DC.
All three cities can easily be visited in one holiday as they
are conveniently linked by an inexpensive rail service
avoiding the need to fly or drive. We have included this
trio of US capital cities in our brand new offer on page
22 together with a seven night Canada & New England
cruise. Check out our discover Las Vegas section on
page 10 which makes a very convenient stopover on
the way to west coast USA based holidays such as our
top sellers from San Francisco to Hawaii or our Grand
Canyon ranch and Pacific Coast cruise offer.
It seems many of you are keen to experience the
finest traditions s at sea on a classic Cunard Queen
Mary 2 Transatlantic voyage with a spot of New York
shopping and sightseeing thrown in. The pace of
bookings is steadily growing every week as we get
ever closer to our bargain departure dates with prices
starting from just £899pp. These make the perfect
holiday for a special treat during the year where it is all
about relaxation, dressing well, eating well and feeling
great about yourself.
The Jetline Cruise Team.
Call in to see us at our cruise centre at High Barnet (London) conveniently situated
immediately opposite High Barnet London Underground station at the end of the
Northern Line. We are open 7 days a week - perfect for when you are in town,
after work or at weekends!
Meet our team of experienced cruise
consultants face to face who are waiting to
source your next cruise holiday at an amazing
price. Our trained advisors are here to tell
you all about our vast range of cruise holiday
combinations available or tailor make your
own bespoke cruise holiday itinerary.
We have kitted them out with the latest
technology so you can really get to
experience your cruise holiday from the
selection and booking process all the way
through to ticketing and embarkation.
A really exciting development is our
interactive experience and cinema room
where we will be hosting events throughout
the year, showcasing specific cruises, running
talks from cruise lines, featuring destination
tourist boards and showing footage of cruise
ships and ports of call.
Our High Barnet Cruise Centre is the ideal
place for anyone that prefers personal face
to face contact when choosing a cruise. Our
specialist team are ready & waiting (iPads in
hand) to help you choose your dream cruise
holiday.
We look forward to seeing you here!
OPEN 9AM TO 6PM 7 DAYS A WEEK
BY APPOINTMENT FROM 6PM TO 9PM 7 DAYS A WEEK
LONDON CRUISE CENTRE
Visit our cruise experts for that personal touch
Royal Caribbean Bionic Bar