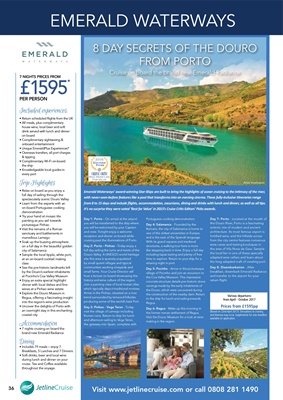 Visit www.jetlinecruise.com or call 0808 281 1490
Included experiences:
• Return scheduled flights from the UK
• All meals, plus complimentary
house wine, local beer and soft
drink served with lunch and dinner
on board
• Complimentary sightseeing &
onboard entertainment
• Unique EmeraldPlus Experiences*
• Overseas transfers, all port charges
& tipping
• Complimentary Wi-Fi on-board
the ship
• Knowledgeable local guides in
every port
Trip Highlights
• Relax on board as you enjoy a
full day of sailing through the
spectacularly scenic Douro Valley
• Learn from the experts with an
on-board Portuguese cooking
demonstration
• Try your hand at mosaic tile
painting as you sail towards
picturesque Pinhao
• Visit the remains of a Roman
sanctuary and battlements in
marvellous Lamego
• Soak up the buzzing atmosphere
on a full day in the beautiful golden
city of Salamanca
• Sample the local tipple, white port,
at an on-board cocktail making
class
• See the pre-historic landmarks left
by the Douro's earliest inhabitants
at Pocinho's Coa Valley Museum
• Enjoy an extra special highlight
dinner with local dishes and fine
wines at a Pinhao wine estate
• Explore the Douro Museum in
Regua, offering a fascinating insight
into the region's wine production
• Uncover the delights of Porto with
an overnight stay in this enchanting
coastal city
Accommodation• 7 nights cruising on board the
brand new Emerald Radiance
Dining • Includes 19 meals - enjoy 7
Breakfasts, 5 Lunches and 7 Dinners
• Soft drinks, beer and local wine
during lunch and dinner on your
cruise. Tea and Coffee available
throughout the voyage.
7 NIGHTS PRICES FROM
£1595*
PER PERSON EMERALD WATERWAYS
Day 1: Porto - On arrival at the airport
you will be transferred to the ship where
you will be welcomed by your Captain
and crew. Tonight enjoy a welcome
reception and dinner on board while
cruising past the illuminations of Porto.
Day 2: Porto - Pinhao - Today enjoy a
full day sailing the turns and twists of the
Douro Valley. A UNESCO world heritage
site this area is sparsely populated
by small quaint villages and typical
communities working vineyards and
small farms. Your Cruise Director will
host a lecture on board showcasing the
history and wine culture of the region.
Join a painting class of local mosaic tiles
which typically depict traditional motives.
Arrive in the Pinhao, situated on a river
bend surrounded by terraced hillsides
producing some of the world's best Port.
Day 3: Pinhao - Vega Teron - Today
visit the village of Lamego including
Roman ruins. Return to ship for lunch
and afternoon sailing to Vega Teron,
the gateway into Spain, complete with
Various departures
from April - October 2017
Prices from £1595pp
(Based on 22nd April 2017). Disruptions to cruising
and itinerary may occur. Supplements for solo travellers
available on application.
Portuguese cooking demonstration.
Day 4: Salamanca - Founded by the
Romans, the city of Salamanca is home to
one of the oldest universities in Europe,
and is the seat of the Spanish language.
With its grand squares and medieval
structures, a walking tour here is more
like stepping back in time. Enjoy a full day
including tapas tasting and plenty of free
time to explore. Return to your ship for a
relaxing night in port.
Day 5: Pocinho - Arrive in the picturesque
village of Pocinho and join an excursion to
the Coa Valley Museum. This impressive
concrete structure details pre-historic stone
carvings made by the early inhabitants of
the Douro, which were uncovered during
the construction of the nearby dam. Return
to the ship for lunch and sailing towards
Regua.
Day 6: Regua - Wake up this morning in
the former roman settlement of Regua.
Visit the Douro Museum for a look at wine
making in the region.
Day 7: Porto - Located at the mouth of
the Douro River, Porto is a fascinating
eclectic mix of modern and ancient
architecture. Its most famous export is
fortified wine, and the hillside across
from the city centre features numerous
wine caves and tasting boutiques in
the area of Vila Nova de Gaia. Sample
the local fair in one of these specially
adapted wine cellars and learn about
the long adapted craft of creating port.
Day 8: Disembarkation - After
breakfast, disembark Emerald Radiance
and transfer to the airport for your
return flight.
36
Emerald Waterways' award-winning Star-Ships are built to bring the highlights of ocean cruising to the intimacy of the river,
with never-seen-before features like a pool that transforms into an evening cinema. These fully-inclusive itineraries range
from 8 to 15 days and include flights, accommodation, excursions, dining and drinks with lunch and dinner, as well as all tips.
It's no surprise they were voted 'Best for Value' in 2015's Cruise Critic Editors' Picks awards.
EMERALD
WATERWAYS
8 DAY SECRETS OF THE DOURO
FROM PORTO
Cruise on board the brand new Emerald Radiance Artist Impression