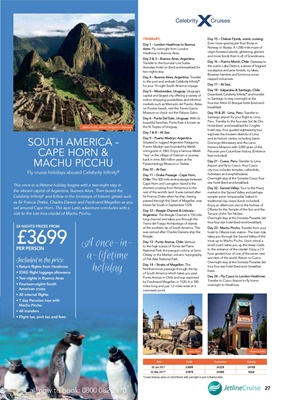 SOUTH AMERICA -
CAPE HORN &
MACHU PICCHU
Fly cruise holidays aboard Celebrity Infinity®
This once-in-a-lifetime holiday begins with a two-night stay in
the vibrant capital of Argentina, Buenos Aires. Then board the
Celebrity Infinity® and follow in the footsteps of historic greats such
as Sir Francis Drake, Charles Darwin and Ferdinand Magellan as you
sail around Cape Horn. This epic Latin adventure concludes with a
visit to the lost Inca citadel of Machu Picchu.
Included in the price:
• Return flights from Heathrow
• 23KG flight luggage allowance
• Two-nights in Buenos Aires
• Fourteen-nights South
American cruise
• All internal flights
• 7 day Peruvian tour with
Machu Picchu
• All transfers
• Flight tax, port tax and fees.
24 NIGHTS PRICES FROM
£3699PER PERSON
Machu Picchu. Below: Penguins in Argentina
A once-ina-lifetime
holiday
27
Call now to book: 0800 082 2170
ITINERARY:
Day 1 - London Heathrow to Buenos
Aires: Fly overnight from London
Heathrow to Buenos Aires.
Day 2 & 3 - Buenos Aires, Argentina:
Transfer to the four-star Lois Suites
Arenales Hotel on (bed-and-breakfast) for
two nights stay.
Day 4 - Buenos Aires, Argentina: Transfer
to the port and embark Celebrity Infinity®
for your 14 night South America voyage.
Day 5 - Montevideo, Uruguay: Uruguay's
capital and largest city offering a variety of
indoor shopping possibilities and informal
markets such as Mercado del Puerto. Relax
on Pocitos beach, visit the Torres Garcia
Museum or check out the Palazzo Salvo.
Day 6 - Punta Del Este, Uruguay: With its
beautiful beaches, Punta Este is known as
the St Tropez of Uruguay.
Day 7 & 8 - At Sea.
Day 9 - Puerto Madryn, Argentina:
Situated in rugged Argentine Patagonia,
Puerto Madryn was founded by Welsh
immigrants in 1865. Enjoy a famous Welsh
"tea" in the village of Gaiman or journey
back in time 300 million years at the
Palaeontology Museum in Trelew.
Day 10 - At Sea:
Day 11 - Drake Passage - Cape Horn,
Chile: This 500 mile wide passage between
Cape Horn and Livingston Island is the
shortest crossing from Antarctica to the
rest of the world's land. It was named after
Sir Francis Drake when his ship, having
passed through the Strait of Magellan, was
blown far South in September 1578.
Day 12 - Beagle Channel & Ushuaia -
Argentina: The Beagle Channel is 150 mile
long channel and takes you through the
Tierra del Fuego Archipelago of islands
at the southern tip of South America. This
was named after Charles Darwins ship the
Beagle.
Day 13 - Punta Arenas, Chile: Venture
to the high scarps of Torres del Paine
National Park, the penguin colony at Seno
Otway, or the Martian volcanic topography
of Pali Aike National Park.
Day 14 - Straits of Magellan: The
Northernmost passage through the tip
of South America which takes you past
Punta Arenas in Chile and was explored
by Ferdinand Magellan in 1520. It is 350
miles long and just 1.2 miles wide at it
narrowest point.
Day 15 - Chilean Fjords, scenic cruising:
Even more spectacular than those in
Norway or Alaska. A 1,000-mile maze of
virgin-forested islands, glistening glaciers
and more fjords than in all of Scandinavia.
Day 16 - Puerto Montt, Chile: Gateway to
the scenic Lake District, a series of fragrant
eucalyptus and pine forests, icy lakes,
Bavarian hamlets and luminous snowcapped volcanoes.
Day 17 - At Sea.
Day 18 - Valparaiso & Santiago, Chile:
Disembark Celebrity Infinity® and transfer
to Santiago to stay overnight at the
four-star Atton El Bosque hotel (bed-andbreakfast).
Day 19 & 20 - Lima, Peru: Transfer to
Santiago airport for your flight to Lima,
Peru. Transfer to the four-star Sol de Oro
Hotel (bed- and-breakfast) for 2 nights
hotel stay. Your guided sightseeing tour
explores the modern districts of Lima
and its historic centre; including Santo
Domingo Monastery and the Larco
Herrera Museum with 3,000 years of the
Peruvian pre-Columbian history. (Entrance
fees included).
Day 21 - Cusco, Peru: Transfer to Lima
Airport and fly to Cusco. Your Cusco
city tour includes temples, cathedrals,
fortresses and amphitheatres.
Overnight stay at the Sonesta Cusco fourstar hotel (bed-and-breakfast).
Day 22 - Sacred Valley: Tour to the Pisaq
market in the Sacred Valley and perhaps
sample some 'empanadas' baked in
traditional clay ovens (lunch included).
Enjoy an afternoon visit to the fortress of
Ollanta for the Temple of the Sun and the
Terrace of the Ten Niches.
Overnight stay at the Sonesta Posadas del
Inca four-star hotel (bed-and-breakfast).
Day 23 - Machu Picchu: Transfer from your
hotel to Ollanta train station. The train ride
takes you through the Sacred Valley of the
Incas up to Machu Picchu. Upon arrival a
small coach takes you up the steep roads
to the entrance of the citadel. Enjoy a 2.5
hour guided tour of one of the seven new
wonders of the world. Return to Cusco.
Overnight stay at the Sonesta Posadas del
Inca four-star hotel (bed-and- breakfast
basis.
Day 24 - Fly Cusco to London Heathrow:
Transfer to Cusco Airport to fly home
overnight to Heathrow.
Date Inside Oceanview Balcony
05 Jan 2017 £3699 £4229 £4749
02 Mar 2017* £3979 £4399 SOLD
*Cruise itinerary varies on 02nd March with overnight in port in Buenos Aires.
Lima, Peru Buenos Aires