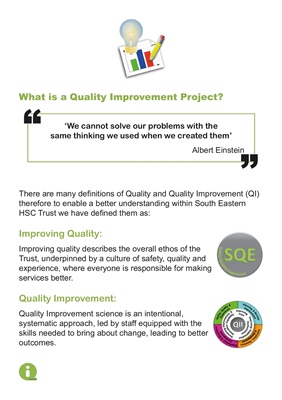 What is a Quality Improvement Project?
'We cannot solve our problems with the
same thinking we used when we created them'
Albert Einstein
"
"
There are many definitions of Quality and Quality Improvement (QI)
therefore to enable a better understanding within South Eastern
HSC Trust we have defined them as:
Improving Quality:
Improving quality describes the overall ethos of the
Trust, underpinned by a culture of safety, quality and
experience, where everyone is responsible for making
services better.
Quality Improvement:
Quality Improvement science is an intentional,
systematic approach, led by staff equipped with the
skills needed to bring about change, leading to better
outcomes.