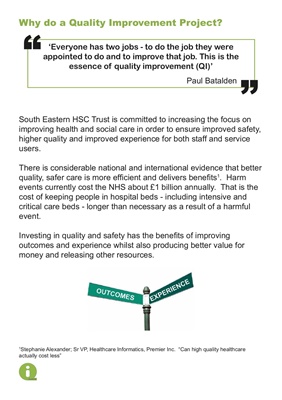 Why do a Quality Improvement Project?
South Eastern HSC Trust is committed to increasing the focus on
improving health and social care in order to ensure improved safety,
higher quality and improved experience for both staff and service
users.
There is considerable national and international evidence that better
quality, safer care is more efficient and delivers benefits1. Harm
events currently cost the NHS about £1 billion annually. That is the
cost of keeping people in hospital beds - including intensive and
critical care beds - longer than necessary as a result of a harmful
event.
Investing in quality and safety has the benefits of improving
outcomes and experience whilst also producing better value for
money and releasing other resources.
1Stephanie Alexander; Sr VP, Healthcare Informatics, Premier Inc. "Can high quality healthcare
actually cost less"
"
"
'Everyone has two jobs - to do the job they were
appointed to do and to improve that job. This is the
essence of quality improvement (QI)'
Paul Batalden