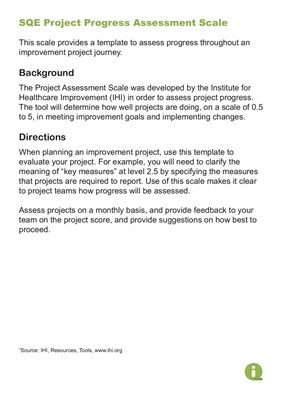 SQE Project Progress Assessment Scale
This scale provides a template to assess progress throughout an
improvement project journey.
Background
The Project Assessment Scale was developed by the Institute for
Healthcare Improvement (IHI) in order to assess project progress.
The tool will determine how well projects are doing, on a scale of 0.5
to 5, in meeting improvement goals and implementing changes.
Directions
When planning an improvement project, use this template to
evaluate your project. For example, you will need to clarify the
meaning of "key measures" at level 2.5 by specifying the measures
that projects are required to report. Use of this scale makes it clear
to project teams how progress will be assessed.
Assess projects on a monthly basis, and provide feedback to your
team on the project score, and provide suggestions on how best to
proceed.
1Source: IHI, Resources, Tools, www.ihi.org