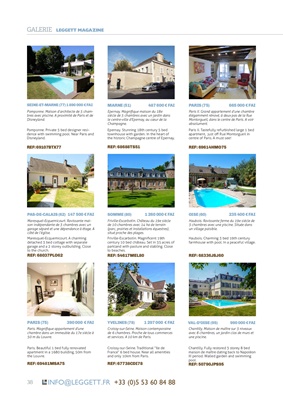 38
PARIS (75) 390 000 € FAI
Paris. Magnifique appartement d'une
chambre dans un immeuble du 17e siècle à
50 m du Louvre.
Paris. Beautiful 1 bed fully renovated
apartment in a 1680 building, 50m from
the Louvre.
REF: 69481MSA75
YVELINES (78) 1 297 000 € FAI
Croissy-sur-Seine. Maison contemporaine
de 6 chambres. Proche de tous commerces
et services. A 10 km de Paris.
Croissy-sur-Seine. Traditional "Ile de
France" 6 bed house. Near all amenities
and only 10km from Paris.
REF: 67738CDI78
VAL-D'OISE (95) 990 000 € FAI
Chantilly. Maison de maître sur 3 niveaux
avec 8 chambres, un jardin clos de murs et
une piscine.
Chantilly. Fully restored 3 storey 8 bed
maison de maître dating back to Napoléon
III period. Walled garden and swimming
pool.
REF: 50790JPS95
SEINE-ET-MARNE (77) 1 890 000 € FAI
Pomponne. Maison d'architecte de 5 chambres avec piscine. A proximité de Paris
et de
Disneyland.
Pomponne. Private 5 bed designer residence
with swimming pool. Near Paris and
Disneyland.
REF: 69107BTX77
MARNE (51) 487 600 € FAI
Epernay. Magnifique maison du 18e
siècle de 5 chambres avec un jardin dans
le centre-ville d'Epernay, au cœur de la
Champagne.
Epernay. Stunning 18th century 5 bed
townhouse with garden. In the heart of
the historic Champagne centre of Epernay.
REF: 68688TS51
PARIS (75) 665 000 € FAI
Paris II. Grand appartement d'une chambre
élégamment rénové, à deux pas de la Rue
Montorgueil, dans le centre de Paris. A voir
absolument.
Paris II. Tastefully refurbished large 1 bed
apartment, just off Rue Montorgueil in
centre of Paris. A must see!
REF: 69614HMO75
GALERIE LEGGETT MAGAZINE
info@leggett.fr +33 (0)5 53 60 84 88
PAS-DE-CALAIS (62) 147 500 € FAI
Maresquel-Ecquemicourt. Ravissante maison indépendante de 3 chambres avec un
garage séparé et une dépendance à étage. A
côté de l'église.
Maresquel-Ecquemicourt. A charming
detached 3 bed cottage with separate
garage and a 2 storey outbuilding. Close
to the church.
REF: 68037PLO62
SOMME (80) 1 260 000 € FAI
Friville-Escarbotin. Château du 19e siècle
de 10 chambres avec 14 ha de terrain
(parc, prairies et installations équestres),
situé proche des plages.
Friville-Escarbotin. Magnificent 19th
century 10 bed château. Set in 35 acres of
parkland with pasture and stabling. Close
to beaches.
REF: 54617MEL80
OISE (60) 235 400 € FAI
Haubois. Ravissante ferme du 19e siècle de
3 chambres avec une piscine. Située dans
un village paisible.
Haubois. Charming 3 bed 19th century
farmhouse with pool. In a peaceful village.
REF: 68336JSJ60