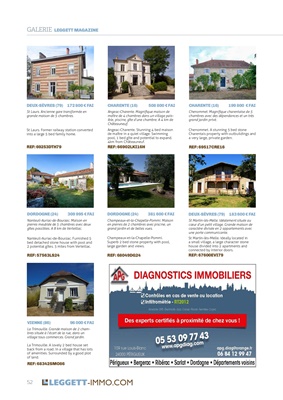 52
DEUX-SÈVRES (79) 183 600 € FAI
St Martin-lès-Melle. Idéalement située au
cœur d'un petit village. Grande maison de
caractère divisée en 2 appartements avec
une porte communicante.
St Martin-lès-Melle. Ideally located in
a small village, a large character stone
house divided into 2 apartments and
connected by interior doors.
REF: 67600EVI79
DEUX-SÈVRES (79) 172 800 € FAI
St Laurs. Ancienne gare transformée en
grande maison de 5 chambres.
St Laurs. Former railway station converted
into a large 5 bed family home.
REF: 69253DTH79
VIENNE (86) 96 000 € FAI
La Trimouille. Grande maison de 2 chambres située à l'écart
de la rue, dans un
village tous commerces. Grand jardin.
La Trimouille. A lovely 2 bed house set
back from a road. In a village that has lots
of amenities. Surrounded by a good plot
of land.
REF: 68342SMO86
GALERIE LEGGETT MAGAZINE
LEGGETT-IMMO.COM
DORDOGNE (24) 309 995 € FAI
Nanteuil-Auriac-de-Bourzac. Maison en
pierres meublée de 5 chambres avec deux
gîtes possibles. A 8 km de Verteillac.
Nanteuil-Auriac-de-Bourzac. Furnished 5
bed detached stone house with pool and
2 potential gÎtes. 5 miles from Verteillac.
REF: 57563LS24
DORDOGNE (24) 381 600 € FAI
Champeaux-et-la-Chapelle-Pommi. Maison
en pierres de 2 chambres avec piscine, un
grand jardin et de belles vues.
Champeaux-et-la-Chapelle-Pommi.
Superb 2 bed stone property with pool,
large garden and views.
REF: 68049DG24
CHARENTE (16) 508 800 € FAI
Angeac-Charente. Magnifique maison de
maître de 4 chambres dans un village paisible, piscine, gîte d'une chambre. A 4 km de
Châteauneuf.
Angeac-Charente. Stunning 4 bed maison
de maître in a quiet village. Swimming
pool, 1 bed gÎte and potential to expand.
4km from Châteauneuf.
REF: 66902LKI16H
CHARENTE (16) 199 800 € FAI
Chenommet. Magnifique charentaise de 5
chambres avec des dépendances et un très
grand jardin privé.
Chenommet. A stunning 5 bed stone
Charentais property with outbuildings and
a very large, private garden.
REF: 69517CRE16