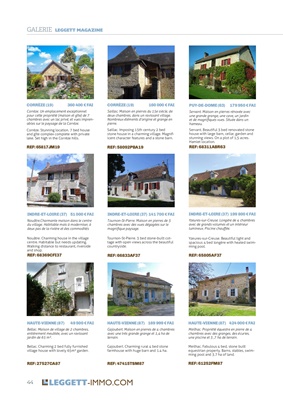 444444
GALERIE LEGGETT MAGAZINE
INDRE-ET-LOIRE (37) 51 000 € FAI
Nouâtre.Charmante maison dans le centre
du village. Habitable mais à moderniser, à
deux pas de la rivière et des commodités
Nouâtre. Charming house in the village
centre. Habitable but needs updating.
Walking distance to restaurant, riverside
and shop.
REF: 68369CFI37
INDRE-ET-LOIRE (37) 141 700 € FAI
Tournon-St-Pierre. Maison en pierres de 3
chambres avec des vues dégagées sur le
magnifique paysage.
Tournon-St-Pierre. 3 bed stone-built cottage
with open views across the beautiful
countryside.
REF: 66833AF37
INDRE-ET-LOIRE (37) 199 800 € FAI
Yzeures-sur-Creuse. Longère de 4 chambres
avec de grands volumes et un intérieur
lumineux. Piscine chauffée.
Yzeures-sur-Creuse. Beautiful light and
spacious 4 bed longère with heated swimming pool.
REF: 65805AF37
CORRÈZE (19) 360 400 € FAI
Corrèze. Un emplacement exceptionnel
pour cette propriété (maison et gîte) de 7
chambres avec un lac privé, et vues imprenables sur le paysage de la Corrèze.
Corrèze. Stunning location. 7 bed house
and gÎte complex complete with private
lake. Set high in the Corrèze hills.
REF: 65817JM19
CORRÈZE (19) 160 000 € FAI
Saillac. Maison en pierres du 15e siècle, de
deux chambres, dans un ravissant village.
Nombreux éléments d'origine et grange en
pierre.
Saillac. Imposing 15th century 2 bed
stone house in a charming village. Magnificent
character features and a stone barn.
REF: 58092PBA19
PUY-DE-DOME (63) 179 950 € FAI
Servant. Maison en pierres rénovée avec
une grande grange, une cave, un jardin
et de magnifiques vues. Située dans un
hameau.
Servant. Beautiful 3 bed renovated stone
house with large barn, cellar, garden and
stunning views. On a plot of 1,5 acres.
Hamlet location.
REF: 68311ABR63
LEGGETT-IMMO.COM
HAUTE-VIENNE (87) 49 500 € FAI
Bellac. Maison de village de 2 chambres,
entièrement meublée, avec un ravissant
jardin de 65 m².
Bellac. Charming 2 bed fully furnished
village house with lovely 65m² garden.
REF: 27527CA87
HAUTE-VIENNE (87) 169 999 € FAI
Gajoubert. Maison en pierres de 4 chambres
avec une très grande grange et 1,4 ha de
terrain.
Gajoubert. Charming rural 4 bed stone
farmhouse with huge barn and 1.4 ha.
REF: 47415TSM87
HAUTE-VIENNE (87) 424 000 € FAI
Meilhac. Propriété équestre en pierre de 4
chambres avec des granges, des écuries,
une piscine et 3 ,7 ha de terrain.
Meilhac. Fabulous 4 bed, stone built
equestrian property. Barns, stables, swimming pool and 3.7 ha of
land.
REF: 61252FM87