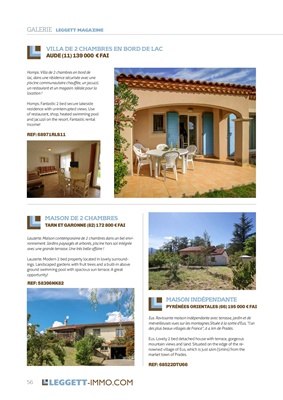 56 LEGGETT-IMMO.COM
Homps. Villa de 2 chambres en bord de
lac, dans une résidence sécurisée avec une
piscine communautaire chauffée, un jacuzzi,
un restaurant et un magasin. Idéale pour la
location !
Homps. Fantastic 2 bed secure lakeside
residence with uninterrupted views. Use
of restaurant, shop, heated swimming pool
and jacuzzi on the resort. Fantastic rental
income! VILLA DE 2 CHAMBRES EN BORD DE LAC
AUDE (11) 139 000 € FAI
REF: 68971RLS11
MAISON DE 2 CHAMBRES
TARN ET GARONNE (82) 172 800 € FAI
Lauzerte. Maison contemporaine de 2 chambres dans un bel environnement. Jardins paysagés et arborés, piscine hors sol intégrée
avec une grande terrasse. Une très belle affaire !
Lauzerte. Modern 2 bed property located in lovely surroundings. Landscaped gardens
with fruit trees and a built-in above
ground swimming pool with spacious sun terrace. A great
opportunity!
REF: 58396NK82
Eus. Ravissante maison indépendante avec terrasse, jardin et de
merveilleuses vues sur les montagnes.Située à la sortie d'Eus, "l'un
des plus beaux villages de France", à 4 km de Prades.
Eus. Lovely 2 bed detached house with terrace, gorgeous
mountain views and land. Situated on the edge of the renowned
village of Eus, which is just 4km (5mins) from the
market town of Prades.
MAISON INDÉPENDANTE
PYRÉNÉES ORIENTALES (66) 195 000 € FAI
REF: 68522DTU66
GALERIE LEGGETT MAGAZINE