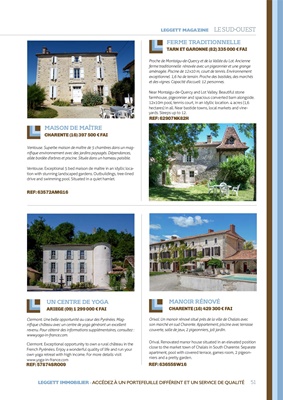 51
Clermont. Une belle opportunité au cœur des Pyrénées. Magnifique château
avec un centre de yoga générant un excellent
revenu. Pour obtenir des informations supplémentaires, consultez :
Clermont. Exceptional opportunity to own a rural château in the
French Pyrénées. Enjoy a wonderful quality of life and run your
own yoga retreat with high income. For more details visit
UN CENTRE DE YOGA
ARIEGE (09) 1 299 000 € FAI
REF: 57874SRO09
Orival. Un manoir rénové situé près de la ville de Chalais avec
son marché en sud Charente. Appartement, piscine avec terrasse
couverte, salle de jeux, 2 pigeonniers, joli jardin.
Orival. Renovated manor house situated in an elevated position
close to the market town of Chalais in South Charente. Separate
apartment, pool with covered terrace, games room, 2 pigeonniers
and a pretty garden.
MANOIR RÉNOVÉ
CHARENTE (16) 429 300 € FAI
REF: 63655SW16
FERME TRADITIONNELLE
TARN ET GARONNE (82) 335 000 € FAI
Proche de Montaigu-de-Quercy et de la Vallée du Lot. Ancienne
ferme traditionnelle rénovée avec un pigeonnier et une grange
aménagée. Piscine de 12x10 m, court de tennis. Environnement
exceptionnel. 1,6 ha de terrain. Proche des bastides, des marchés
et des vignes. Capacité d'accueil: 12 personnes.
Near Montaigu-de-Quercy and Lot Valley. Beautiful stone
farmhouse, pigeonnier and spacious converted barn alongside.
12x10m pool, tennis court, in an idyllic location. 4 acres (1,6
hectares) in all. Near bastide towns, local markets and vineyards.
Sleeps up to 12..
REF: 62907NK82H
LEGGETT MAGAZINE LE SUD-OUEST
Ventouse. Superbe maison de maître de 5 chambres dans un magnifique environnement avec des jardins paysagés. Dépendances,
allée bordée d'arbres et piscine. Située dans un hameau paisible.
Ventouse. Exceptional 5 bed maison de maÎtre in an idyllic location with stunning landscaped gardens.
Outbuildings, tree-lined
drive and swimming pool. Situated in a quiet hamlet.
MAISON DE MAÎTRE
CHARENTE (16) 397 500 € FAI
REF: 63572AMG16
LEGGETT IMMOBILIER - ACCÉDEZ À UN PORTEFEUILLE DIFFÉRENT ET UN SERVICE DE QUALITÉ