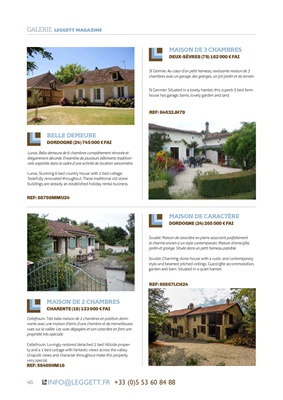 4646
MAISON DE 3 CHAMBRES
DEUX-SÈVRES (79) 162 000 € FAI
St Germier. Au cœur d'un petit hameau, ravissante maison de 3
chambres avec un garage, des granges, un joli jardin et du terrain.
St Germier. Situated in a lovely hamlet, this superb 3 bed farmhouse has garage,
barns, lovely garden and land.
REF: 64632JH79
GALERIE LEGGETT MAGAZINE
MAISON DE CARACTÈRE
DORDOGNE (24) 265 000 € FAI
Soudat. Maison de caractère en pierre associant parfaitement
le charme ancien à un style contemporain. Maison d'amis/gîte,
jardin et grange. Située dans un petit hameau paisible.
Soudat. Charming stone house with a rustic and contemporary
style and beamed pitched ceilings. Guest/gÎte accommodation,
garden and barn. Situated in a quiet hamlet.
REF: 69567LCH24
Cellefrouin. Très belle maison de 2 chambres en position dominante avec une maison d'amis d'une chambre et de merveilleuses
vues sur la vallée. Les vues dégagées et son caractère en font une
propriété très spéciale.
Cellefrouin. Lovingly restored detached 2 bed hillside property and a 1 bed cottage
with fantastic views across the valley.
Unspoilt views and character throughout make this property
very special.
MAISON DE 2 CHAMBRES
CHARENTE (16) 133 000 € FAI
REF: 59469HM16
BELLE DEMEURE
DORDOGNE (24) 745 000 € FAI
REF: 68798MMU24
Lunas. Belle demeure de 6 chambres complètement rénovée et
élégamment décorée. Ensemble de plusieurs bâtiments traditionnels exploités dans le cadre
d'une activité de location saisonnière.
Lunas. Stunning 6 bed country house with 2 bed cottage.
Tastefully renovated throughout. These traditional old stone
buildings are already an established holiday rental business.
info@leggett.fr +33 (0)5 53 60 84 88