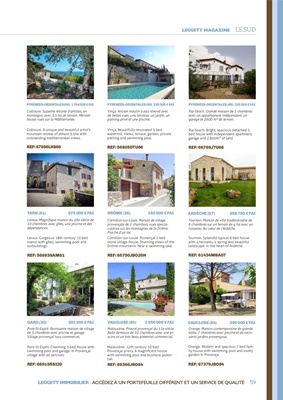 GARD (30) 392 200 € FAI
Pont-St-Esprit. Ravissante maison de village
de 3 chambres avec piscine et garage.
Village provençal tous commerces.
Pont-St-Esprit. Charming 3 bed house with
swimming pool and garage. In Provençal
village with all services.
REF: 66915RSI30
VAUCLUSE (84) 1 950 000 € FAI
Malaucène. Prieuré provençal du 12e siècle.
Belle demeure de 10 chambres avec une piscine et un très beau
potentiel commercial.
Malaucène. 12th century 10 bed
Provençal priory. A magnificent house
with swimming pool and business potential.
REF: 69366JBO84
VAUCLUSE (84) 399 000 € FAI
Orange. Maison contemporaine de grande
taille. 7 chambres avec piscine et de ravissants jardins provençaux.
Orange. Modern and spacious 7 bed family house with swimming pool and lovely
garden in Provençe.
REF: 67379JBO84
PYRÉNÉES-ORIENTALES (66) 1 764 000 € FAI
Collioure. Superbe retraite d'artistes, en
montagne, avec 3,5 ha de terrain. Merveil-
leuses vues sur la Méditerranée.
Collioure. A unique and beautiful artist's
mountain retreat of almost 3.5ha with
outstanding mediterranean views.
REF: 67956LHS66
PYRÉNÉES-ORIENTALES (66) 335 000 € FAI
Vinça. Ancien moulin à eau rénové avec
de belles vues, une terrasse, un jardin, un
parking privé et une piscine.
Vinça. Beautifully renovated 3 bed
watermill. Views, terrace, garden, private
parking and swimming pool.
REF: 56805DTU66
PYRÉNÉES-ORIENTALES (66) 335 000 € FAI
Ria-Sirach. Grande maison de 5 chambres
avec un appartement indépendant, un
garage et 2600 m² de terrain.
Ria-Sirach. Bright, spacious detached 5
bed house with independent apartment,
garage and 2,600m2 of land.
REF: 66769JTU66
59
LEGGETT MAGAZINE LE SUD
TARN (81) 975 000 € FAI
Lavaur. Magnifique manoir du 18e siècle de
10 chambres avec gîtes, une piscine et des
dépendances.
Lavaur. Gorgeous 18th century 10 bed
manor with gîtes, swimming pool and
outbuildings.
REF: 56893SAM81
DRÔME (26) 160 000 € FAI
Cornillon-sur-Loule. Maison de village
provençale de 2 chambres, vues specta-
culaires sur les montagnes de la Drôme.
Proche d'un lac.
Cornillon-sur-Loule. Provençal 2 bed
stone village house. Stunning views of the
Drôme mountains. Near a swimming lake.
REF: 65700JBO26H
ARDÈCHE (07) 896 750 € FAI
Tournon. Maison de ville traditionnelle de
6 chambres sur un terrain de 4 ha avec un
ruisseau. Au cœur de l'Ardèche.
Tournon. Splendid typical 6 bed house
with 4 hectares, a spring and beautiful
landscape. In the heart of Ardèche.
REF: 61434MBA07
59
LEGGETT IMMOBILIER - ACCÉDEZ À UN PORTEFEUILLE DIFFÉRENT ET UN SERVICE DE QUALITÉ