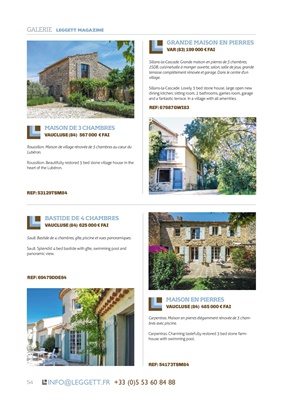 54
GRANDE MAISON EN PIERRES
VAR (83) 199 000 € FAI
Sillans-la-Cascade. Grande maison en pierres de 3 chambres,
2SDB, cuisine/salle à manger ouverte, salon, salle de jeux, grande
terrasse complètement rénovée et garage. Dans le centre d'un
village.
Sillans-la-Cascade. Lovely 3 bed stone house, large open new
dining kitchen, sitting room, 2 bathrooms, games room, garage
and a fantastic terrace. In a village with all amenities.
REF: 67687GWI83
info@leggett.fr +33 (0)5 53 60 84 88
Roussillon. Maison de village rénovée de 3 chambres au cœur du
Lubéron.
Roussillon. Beautifully restored 3 bed stone village house in the
heart of the Lubéron.
MAISON DE 3 CHAMBRES
VAUCLUSE (84) 567 000 € FAI
REF: 53129TSM84
BASTIDE DE 4 CHAMBRES
VAUCLUSE (84) 625 000 € FAI
Sault. Bastide de 4 chambres, gîte, piscine et vues panoramiques.
Sault. Splendid 4 bed bastide with gîte, swimming pool and
panoramic view.
REF: 69479DDE84
Carpentras. Maison en pierres élégamment rénovée de 3 chambres avec piscine.
Carpentras. Charming tastefully restored 3 bed stone farmhouse with swimming pool.
MAISON EN PIERRES
VAUCLUSE (84) 485 000 € FAI
REF: 54173TSM84
GALERIE LEGGETT MAGAZINE