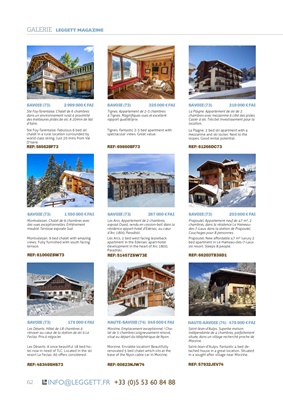 info@leggett.fr +33 (0)5 53 60 84 88
62
GALERIE LEGGETT MAGAZINE
SAVOIE (73) 1 550 000 € FAI
Montvalezan. Chalet de 9 chambres avec
des vues exceptionnelles. Entièrement
meublé. Terrasse exposée Sud.
Montvalezan. 9 bed chalet with amazing
views. Fully furnished with south facing
terrace.
REF: 61000ZSW73
SAVOIE (73) 267 000 € FAI
Les Arcs. Appartement de 2 chambres,
exposé Ouest, vendu en cession-bail dans la
résidence appart-hotel d'Edenac, au cœur
d'Arc 1800, Paradiski.
Les Arcs. 2 bed west facing leaseback
apartment in the Edenarc apart-hotel
development in the heart of Arc 1800,
Paradiski.
REF: 51457ZSW73E
SAVOIE (73) 203 000 € FAI
Prapoutel. Appartement neuf de 47 m², 2
chambres, dans la résidence Le Hameaudes-7-Laux,
dans la station de Prapoutel.
Couchages pour 8 personnes.
Prapoutel. New affordable 47 m² luxury 2
bed apartment in Le Hameau-des-7-Laux
ski resort. Sleeps 8 people.
REF: 66203TB38D1
SAVOIE (73) 178 000 € FAI
Les Déserts. Hôtel de 18 chambres à
rénover au cœur de la station de ski à La
Feclaz. Prix à négocier.
Les Déserts. A once beautiful 18 bed hotel now
in need of TLC. Located in the ski
resort La Feclaz. All offers considered.
REF: 48349SHS73
HAUTE-SAVOIE (74) 845 000 € FAI
Morzine. Emplacement exceptionnel ! Chalet de 5 chambres soigneusement rénové,
situé au départ du téléphérique de Nyon.
Morzine. Enviable location! Beautifully
renovated 5 bed chalet which sits at the
base of the Nyon cable car in Morzine.
REF: 60823NJW74
HAUTE-SAVOIE (74) 478 000 € FAI
Saint-Jean-d'Aulps. Superbe maison
indépendante de 4 chambres, parfaitement
située, dans un village recherché proche de
Morzine.
Saint-Jean-d'Aulps. Fantastic 4 bed detached house in a great
location. Situated
in a sought after village near Morzine.
REF: 57932JEV74
SAVOIE (73) 2 999 000 € FAI
Ste Foy-Tarentaise. Chalet de 6 chambres
dans un environnement rural à proximité
des meilleures pistes de ski. A 20min de Val
d'Isère.
Ste Foy-Tarentaise. Fabulous 6 bed ski
chalet in a rural location surrounded by
world class skiing. Just 20 mins from Val
D'Isere.
REF: 58562BF73
SAVOIE (73) 325 000 € FAI
Tignes. Appartement de 2-3 chambres
à Tignes. Magnifiques vues et excellent
rapport qualité/prix.
Tignes. Fantastic 2-3 bed apartment with
spectacular views. Great value.
REF: 69860BF73
SAVOIE (73) 219 000 € FAI
La Plagne. Appartement de ski de 2
chambres avec mezzanine à côté des pistes.
Casier à ski. Très bel investissement pour la
location.
La Plagne. 2 bed ski apartment with a
mezzanine and ski locker. Next to the
slopes. Good rental potential.
REF: 61266DC73