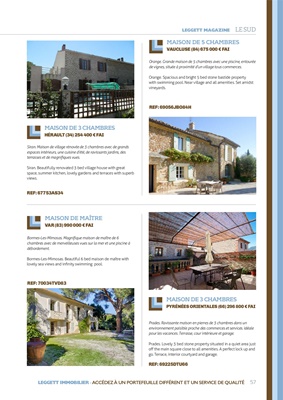 57
Siran. Maison de village rénovée de 3 chambres avec de grands
espaces intérieurs, une cuisine d'été, de ravissants jardins, des
terrasses et de magnifiques vues.
Siran. Beautifully renovated 3 bed village house with great
space, summer kitchen, lovely gardens and terraces with superb
views.
MAISON DE 3 CHAMBRES
HÉRAULT (34) 254 400 € FAI
REF: 67753AS34
MAISON DE 5 CHAMBRES
VAUCLUSE (84) 675 000 € FAI
Orange. Grande maison de 5 chambres avec une piscine, entourée
de vignes, située à proximité d'un village tous commerces.
Orange. Spacious and bright 5 bed stone bastide property
with swimming pool. Near village and all amenities. Set amidst
vineyards.
REF: 69056JBO84H
LEGGETT MAGAZINE LE SUD
MAISON DE MAÎTRE
VAR (83) 990 000 € FAI
Bormes-Les-Mimosas. Magnifique maison de maître de 6
chambres avec de merveilleuses vues sur la mer et une piscine à
débordement.
Bormes-Les-Mimosas. Beautiful 6 bed maison de maître with
lovely sea views and infinity swimming pool.
REF: 70034TVD83
Prades. Ravissante maison en pierres de 3 chambres dans un
environnement paisible proche des commerces et services. Idéale
pour les vacances. Terrasse, cour intérieure et garage.
Prades. Lovely 3 bed stone property situated in a quiet area just
off the main square close to all amenities. A perfect lock up and
go. Terrace, interior courtyard and garage.
MAISON DE 3 CHAMBRES
PYRÉNÉES ORIENTALES (66) 296 800 € FAI
REF: 69225DTU66
LEGGETT IMMOBILIER - ACCÉDEZ À UN PORTEFEUILLE DIFFÉRENT ET UN SERVICE DE QUALITÉ