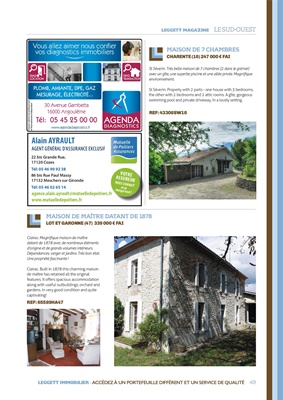 LEGGETT MAGAZINE LE SUD-OUEST
49
Clairac. Magnifique maison de maître
datant de 1878 avec de nombreux éléments
d'origine et de grands volumes intérieurs.
Dépendances, verger et jardins. Très bon état.
Une propriété fascinante !
Clairac. Built in 1878 this charming maison
de maÎtre has retained all the original
features. It offers spacious accommodation
along with useful outbuildings, orchard and
gardens. In very good condition and quite
captivating!
MAISON DE MAÎTRE DATANT DE 1878
LOT ET GARONNE (47) 339 000 € FAI
REF: 65589HA47
MAISON DE 7 CHAMBRES
CHARENTE (16) 247 000 € FAI
St Séverin. Très belle maison de 7 chambres (2 dans le grénier)
avec un gîte, une superbe piscine et une allée privée. Magnifique
environnement.
St Séverin. Property with 2 parts - one house with 3 bedrooms,
the other with 2 bedrooms and 2 attic rooms. A gîte, gorgeous
swimming pool and private driveway. In a lovely setting.
REF: 43308SW16
Alain AYRAULT
AGENT GÉNÉRAL D'ASSURANCE EXCLUSIF
22 bis Grande Rue,
17120 Cozes
Tél: 05 46 90 92 38
86 bis Rue Paul Massy
17132 Meschers sur Gironde
Tél: 05 46 02 65 14
agence.alain.ayrault@mutuelledepoitiers.fr
VOTRE
ASSUREUR
VOUS CONNAîT
et ça
change tout !
LEGGETT IMMOBILIER - ACCÉDEZ À UN PORTEFEUILLE DIFFÉRENT ET UN SERVICE DE QUALITÉ